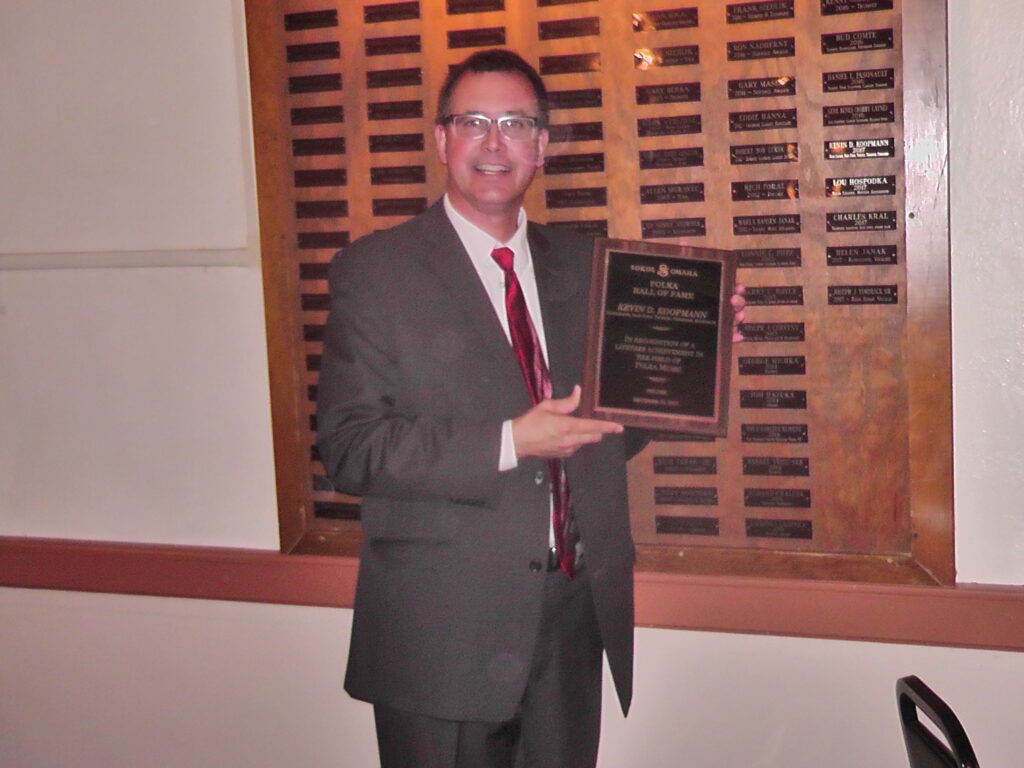 Kevin D. Koopmann was born on April 3rd, 1964 in Norfolk, Nebraska, his parents mother Marlene and the late Donald Koopmann. Kevin is married to Dr. Ann Francine Koopmann, they have a daughter Emily Ann Koopmann, and grandson Maxamillian Henry Graves and live near Ceresco, Nebraska.
Kevin attended grade and high school in Stanton, Nebraska graduating in 1982. He then earned a Bachelors degree in Home Economics in 1987, with Minors in Business and Czech Language, and received his Masters Degree in Educational Administration in 2012, all from the University of Nebraska Lincoln. In 1994 he earned a K-12 Instrumental Music Teaching Certificate from Doane College in Crete, Nebraska.
Kevin is a third generation tuba player as his grandpa Henry, and his dad Donald also played tuba with many bands. He started playing his dad's Eb tuba while in the 5th grade. Kevin switched to Bb tuba in high school played solos at music contests, and was featured in a Stanton High School marching band show playing the Clarinet Polka on the tuba. During this time he took private lessons and auditioned for the Nebraska All-State Band his senior year, placing 5th as an All-State Champion the Fall of 1981.
Kevin's first paying gig was with a high school polka trio called Polka Rocks. While playing with Polka Rocks at the Eddie Skeets Polka Festival at Kings Ballroom in Norfolk, Nebraska, a spectacular thing happened according to Kevin: Dean Hansen asked him to set in with his Orchestra. Al Grebnick who was also at the festival noticed him playing with the Dean Hansen Orchestra. The following week he got a call from Al Grebnick and Dean Hansen to play some jobs and eventually played steady for Dean Hansen Orchestra and Trio from 1980 thru 1981. Other groups Kevin played for during high school were Norfolk Polka Kings, Battle Creek Brass, Frankie Charipar Trio, Dave Salmons Band, and John Dufek Trio.
When attending University of Nebraska, Kevin was a member of the Cornhusker Marching Band 1982 thru 1984, he performed at two Orange Bowls in Florida, and the Sugar Bowl in Louisiana, which was the first time he flew in a airplane.
In the summer of 1983 Kevin was asked to play with the Jim Bochnicek Orchestra on the road to Esterhazy, Canada and the following week to Ennis, Texas. This is when he met Kenny and Cheryl Janak, Barry Boyce, Paul Menousek and dear friends from Texas the Zapletal family.
In 1986 Kevin joined the Moostash Joe Polka Band and remembers riding his bicycle to play 11 days at the state fair with Moostash at the open air auditorium, also performing on TV and Radio shows as well as playing at festivals that led to jamming with Myron Floren, Frankie Yankovic, and meeting Harold Loeffelmacher of the Six Fat Dutchmen. He then played tuba and sang in Czech and English with Elmer Nemec on a Moostash Joe Polka Band recording which was Kevin's first experience at recording in a studio.
In 1988, Kevin married Ann, and they moved to Waco, Nebraska. At this time he played for Duane Schulz Combo and German Band, and was a sub for Bob Blecha and the Bouncing Czechs and Greg Blecha's Goodtime Band. In 1989 Kevin joined the Math Sladky Band and recorded with the band in a studio, and on a video recorded here at Sokol. At this time he also through polka music had lunch with children's TV host Captain Kangaroo.
In September, 1991 at the Wisner, Nebraska Polka Fest Kevin played his first job with the Mark Vyhlidal Band and is celebrating 26 years with the band. In those years he has been a part of six CDs and four polka videos. Kevin also has been a host on the All-Star Polka Show on KJSK radio from Columbus, Nebraska in Mark's absence. While playing for Mark Vyhlidal Kevin enjoyed 4 bus tours to Ennis, Texas, 4 trips to Las Vegas, playing at the Lincoln Lied Center for the Garrison Keillor show, the bands music being selected for the Smithsonian Institute of Music, and a feature in the New York Times newspaper. A side note in 1997 while on the Las Vegas trip Kevin and Ann went to Los Angles and Kevin was a part of The Price Is Right show with Bob Barker.
Kevin played tuba, trumpet, and recorded with the Dan Bruha Trio from 2000 to 2009, and in 2004 started playing baritone horn on The Nebraska Czech Brass Band to this date. With an interest to run his own band Kevin bought the Duffy Belorad music library, a band that his dad Donald played tuba for in the 1970's. The first performance of the New Duffy Belorad Band under the direction of Kevin D. Koopman was at Starlite Ballroom, Wahoo, Nebraska, on November 16th, 2002.
In 2006 a CD was produced and in June of 2011 a tapping for the Molly B Polka Show on RFD TV. The band plays on a regular basis at The Center in Council Bluffs, Iowa for their ballroom dancers. Kevin also runs a polka combo, and in 2010 recorded a CD that included a patriotic polka and a Christmas polka, and some tuba work by his father.
A list of the groups not already mentioned Kevin has preformed for: Ernie Kucera, Sonny Svoboda, Jim Kucera, Jolly Coppersmiths, Brad Husak, Czechlanders, Barry Boyce, Gil Krajnek, Kenny Shuda, Lincoln Czechmasters, Merry Musicians, Barefoot Becky, Moonliters, Leonard Becwar, Don Telecky, Polka Commotion, Goodtime Dutchmen, Wayne Ripke, Erwin Suess, Angie Kriz, Leo Lonnie, Young Czechs, Hank Zahourek, Addie Heji, American Czech Brass Band, Prague Czech Brass Band, Vern Belik, Bohemian Alps Boys, Red Jisa, Raynold Kubik, Czech Friends, Micheal Brecka, and Lou Hospodka's Little Tavern Band.
The ballroom or other than Polka groups Ceresco Brass Quintet, Street Railway Dixieland Band, Jay Sterling, Ron Nadherny, Lou Arnold, Tommy Bishop, and Jimmy B.
Kevin began his teaching career in 1994. He has taught grades 5 thru 12 instrumental music at Winside Public Schools, Raymond Central Public Schools, Yutan Public Schools, and is currently teaching 6 thru 8 grade Band and Orchestra for Lincoln Public Schools at Goodrich Middle School. He was elected and serves as middle school director for the Nebraska Music Educators Association responsible for junior high orchestra, band, and choir.
The trophies, awards, and accomplishments the students have earned over the last 20 years at district and state level are too numerous to mention. Here are a few facts:
Kevin D. Koopmann was voted Teacher of the Year four times by the staff and students, and received the State Teacher of the Year at the Nebraska VFW Convention for teaching patriotism.
At Winside, Raymond Central, and Yutan Schools the Koopmann band membership still holds the record for being the largest band in that schools history, and at every school, there was a full sized polka band and the students were required to learn how to play button accordion.
Source: Hall of Fame Induction Ceremony, September 10th, 2017