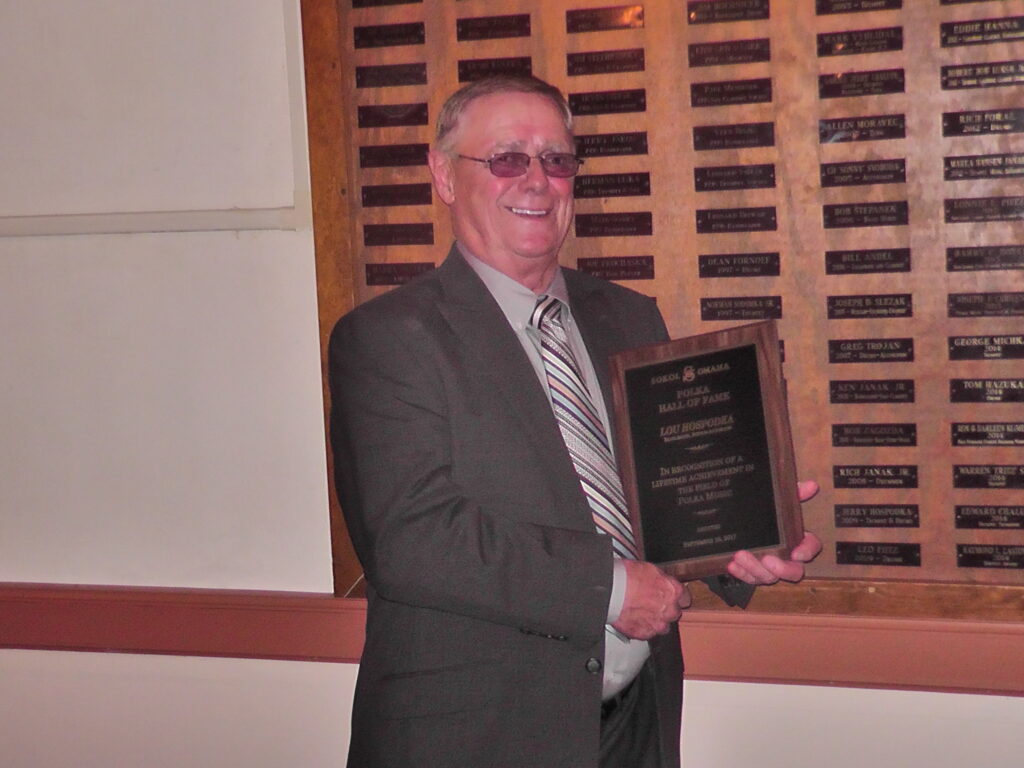 Louis J. Hospodka Jr. was born on December 23rd, 1940 in Omaha, Nebraska, his parents were the late Louis Sr. and Blanche Hospodka. Lou is married to Mary Hospodka and they have four children, Steven, Andrew, Jason, and Johnna.
Lou attended St. Agnes and Holy Ghost grade schools and graduated in 1959 from Omaha South high school.
At age 8 Lou began taking piano lessons from teacher Clara Yechout from 1948 thru 1949. At age 9 he played the song Carolina Moon on the piano at a recital at Joslyn Museum and won a red fire truck. Somewhere around 1954 his dad borrowed a 120 Bass Piano Accordion from Ted Olechoski Lou could never master those black buttons. He thinks he disappointed his father because he never became an accomplished piano accordion player.
Lou met wife Mary here at Sokol at a polka dance, she being of Polish heritage they also went to the Polish Home often.
It was there that he met Milt Jaworski who started a little polka band and in 1961 Lou played rhythm guitar and drums with him at a lot of bars. After getting married in 1962 he quit playing to raise a family so the beloved polka music was put on the so called back burner.
Sometime in the mid 1980's Lou bought a 3 row Horner Button Accordion from Hans Armburst and taught himself how to play it. In 1994 brother Ed asked if Lou would help him take over the South O Polka Show as Rudy Dvorak was retiring. So the name changed to the South O Czech Polka Show and after Ed moved to western Nebraska Lou along with Charlie Petrmichl did the show for the next 15 years, ending on December 25th, 2011. During those years they produced polka fests at Millard Legion, Sokol Auditorium, Polish Home both halls, and American Legion Post 331.
In 1999 The Little Tavern Band was formed and have played dances, weddings, and festivals at Pla Morin Lincoln, TJ. Sokol Wilber, Czechlanders Grand Island, National Hall Prague, Czech Fest Verdigre, Czech Fest Clarkson all in Nebraska, and Czech Days Tabor South Dakota.
Lou was inducted into the Musicians Hall of Fame Milligan Nebraska, January 16th 2011, and also has produced 4 recordings and appeared on the 2011 Mollie B Polka Show video taping at Starlite Ballroom Wahoo, Nebraska.
Source: Hall of Fame Induction Ceremony, September 10th, 2017