Jim Bochnicek was born on November 19, 1945 in Omaha, NE. As a farm boy he attended Fairview Country School in Papillion, NE through 6th grade and 7th through 12th grade at Springfield Platteview School graduating in 1964. He was a member of the school band and was named "Band Man of the Year" in 1962.
His interest in music began at a very small age always beating on his mom's pots and pans with a steady beat. At age 4, his uncle (who played for one of the top polka bands) gave him an extra set of drums so he could play polka music with his father Henry who played Button Accordion. The two of them entertained polka lovers at various house parties and social events.
In 1962, Jim worked all summer helping neighbors with hay bailing, corn shelling and walking bean fields to earn money for a new set of drums. He and a fellow classmate began playing for school functions and in August of 1963, a group called the Thunderbirds was scheduled to entertain at the Sarpy County Fair, however, their drummer failed to show up. So, Jim was asked to get his drums and set in with the band. They apparently liked what they heard and he remained with this Country and Light Rock Band until early 1965.
On New Year's Eve 1965, Jim joined Frankie Remar's band, The Polka Knights. This was a teenage polka band with members that attended Ryan High School in Omaha. He remained with this band until mid 1970 and also was on the first vinyl recording of this band.
It wasn't long before Jim was offered the drum position with the Eddie Janak Orchestra, one of Nebraska top polka bands. Unfortunately, Eddie Janak passed away at an early age in 1973 and there was a recording that Jim helped produce titled "A Tribute to Eddie Janak".
In May of 1973, Jim visited radio station KOTD in Plattsmouth, Nebraska and was offered the Polka DJ position for Saturday and Sunday shows. As a result of the good job he did in this position, he earned the title of "Mr. Polka Power". Due to his work schedule and family obligations, he left the radio station at the end of 1975.
After leaving the Eddie Janak Orchestra in 1976, Jim started his own band The Jim Bochnicek Orchestra consisting of young high school age talent and soon became one of the popular polka bands in Nebraska. This group traveled to entertain dancers in: Iowa, South Dakota, North Dakota, Wyoming, Minnesota, Wisconsin, Michigan, Ohio, Kansas, Oklahoma, and Texas. They also had three tours made to Canada
This band recorded five vinyl LP's and in 2001 produced a CD titled "The Best of 25 Years" taking tunes from the previous four LP's.
Jim was instrumental in promoting polka music by hiring some of the best polka bands in Nebraska. He had discussed this idea with Eddie Janak prior to his untimely death. So, on Sunday, May 26, 1974, he hosted a Battle of The Bands event at Sokol Auditorium in Omaha, NE. On the stage were the Eddie Janak Orchestra, Ernie Kucera Orchestra, Al Grebnick Orchestra and the Allen Vallish Orchestra. This event attracted a very large crowd of polka lovers and dancers.
Due to the success of this event, another band was added the following year with five polka bands on one stage with a live radio broadcast on Radio Station KOTD, Plattsmouth, NE. This event became so popular that it was expanded to two days from 1976 through 1979 and in 1980; it expanded to three days with several local bands and out of state polka bands. Jim was the first polka promoter to bring Ray Dorschner and the Rainbow Valley Dutchmen, from Menasha, Wisconsin to Nebraska in 1995 for the two day festival that Ray called Rainbow Valley West.
Due to scheduling problems, there wasn't any polka fest in 1986, however, in 1987,  he reserved a ballroom in a large Hotel in Omaha over Labor Day weekend and bus loads of people in attendance filled the ballroom. There was people from all over the country. Harry Czarnek and The Texas Dutchmen Band was the headliner band for the festivals in 1987 and 1988.
Besides having the Jim Bochnicek Orchestra, he had the opportunity to purchase the big band music library of the late Skippy Anderson and began booking ballroom dances and events. In October of 1989, Jim named the group The Jimmy B Orchestra. This band has become one of the most popular dance bands in Nebraska and Iowa.
In 2001, they produced a CD titled "The Big Band Sounds of the Jimmy B Orchestra". Also, in 2003, this band was selected to play at the Glen Miller Festival in Clarinda, Iowa.
During his musical career, Jim was a member of the American Czech Brass Band and also worked with many other polka bands such as, Frank Hazuka, Vern Luddington Orchestra, Red Raven Orchestra, Sparta Orchestra, Kenny Shuda, Barry Boyce and Greg Blecha.
Jim is a charter member of the Nebraska Polka of A's, and serves as an Executive Board Member. He was honored by being inducted into the Sokol Omaha Polka Hall of Fame in 1994 and also serves as Master of Ceremony for this annual event since 2010. Jim received the Frankie Award from Polka America Corporation (PAC) in 2014.
Jim's family includes his best friend and companion Ann Koenig, sons, Chris, Tim and daughter Michele Gleason. He has nine Grandchildren, Doug, Donald, David (Chris's) Theresa, Nick, Donavon (Tim's) Stephanie, Brandon, Melissa, (Michele's) and two Great Grandchildren, Maria and Annabelle.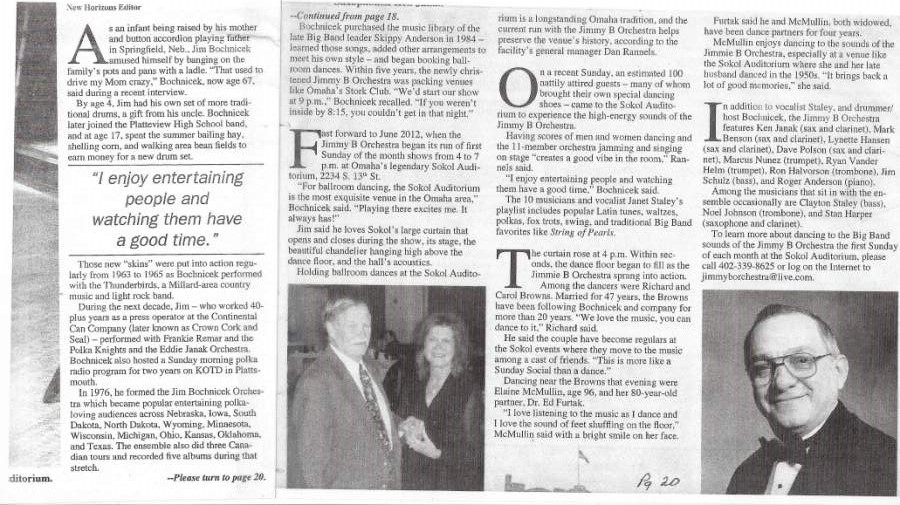 Source: Hall of Fame Induction Ceremony