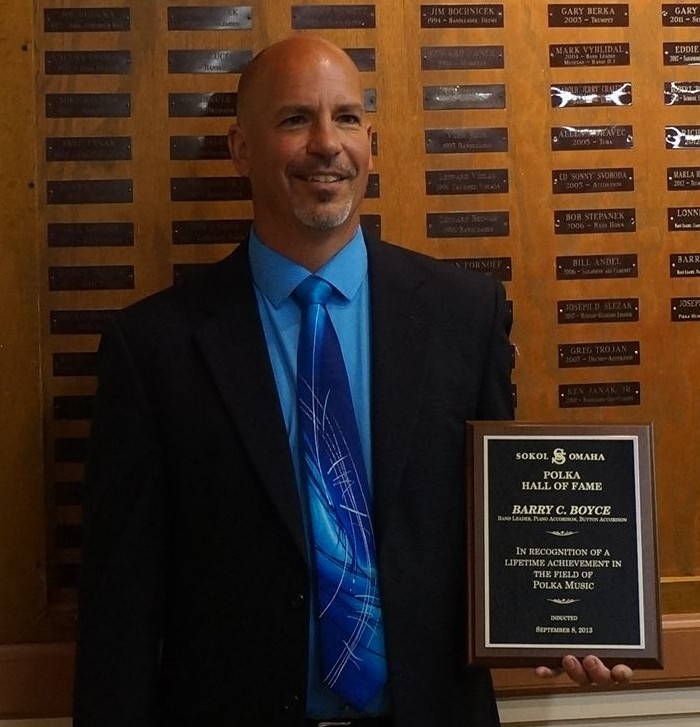 Barry Clay Boyce was born on August 20, 1963 Omaha, Nebraska. His parents are Jerry and the late lil Sydzyik Boyce. Barry and his wife Sandy were married in 1985 and live in Omaha, Nebraska. They have two children: Chad and Ashley. Barry attended grade school and high school in the Millard Public Schools graduating from Millard South High School in 1981.
Barry got his first instrument in 1973 at age 10, it was a 12-Bass Accordion. He then began taking lessons at Swoboda's Music Center 20th & Q St. in South Omaha from the 5th grade to his Junior year in high school. Barry did not play in the school band, they wouldn't let him in with his accordion. However he did play in the 5th and 6th grade talent show and in 7th grade music class, where everyone thought it was cool how he could play all those buttons on the left side. While taking lessons Barry traveled to M.A.M.A. Contests (that's Mid America Music Association) held in different states where he received trophies for "Superior" ratings. Barry also was awarded trophies at the Pla-Mor Ballroom Polka Days Button Accordion Contest in Lincoln, Nebraska. "Amateur Category" 2nd Place in 1982 and 1st Place in 1983 then 1st Place "Professional Category" in 1988.
Barry's first professional job was with The Jim Bochnicek Orchestra at the Polish Home in Omaha Nebraska on October 20, 1979. Since then Barry has taken his sight reading talents to play for 25 different Polka Groups in state the list includes: Allen Valish Orchestra, Bobby Z & Polka All Stars, Dean Hansen Orchestra, Dick Janak Band, Duffy Belorad Orchestra, Ernie Kucera Orchestra, German Old-Time Band, Janak Family Band, Jeff Janda & The Brown Park Orchestra, Jim Bochnicek Combo and Orchestra, Jolly Yanks, Kevin Koopmann Combo, Leo Lonnie Orchestra, Math Sladky Band, Mike Brecka Orchestra, and Ron Nadherny Band. The list of out of state groups are Bobby Allen Band (Iowa), Brian & The Mississippi Valley Dutchmen (Wisconsin), Coppersmith's (South Dakota), Czech & Then Some (Texas), Danny Zapletal Tribute Band (Texas), Harry Czarnek & The Texas Dutchmen (Texas), Karl & The Country Dutchmen (Wisconsin), and The Six Fat Dutchmen (Minnesota). If any group was missed Barry says it wasn't done intentionally.
Barry grew up painting with his dad Jerry's business saving money for the love of his life, "A 1963 Chevy Impala 2-door hardtop." He still has the car as it was the first one he owned. In a weak moment he gave it to son Chad, but the car still seems to be in Barry's garage. Barry always loved working on old cars and purchased a 1968 Camaro Rally Sport and fixed it up to mint condition before selling it in 1988.
Barry loved to work and make money to spend on his cars and not girls. Then while playing on the Jim Bochnicek Orchestra, he met Kenny Janak's sister, Sandy. After lots of time spent with his cars, he finally broke down and nudged his way into a realationship with Sandy. After four years of dating, they married in 1985. Of course with any marriage, things change and Barry doesn't get to spend money on cars like he used to. Especially after having two children, a house, a regular job and traveling with the band. Barry has always been hands on and gets into a little bit of everything with his current position as a maintenance tech for over 18 years and also remodeling his whole house.
Barry's obvious love is playing Polka Music and in 1989 he formed the Barry Boyce Band. In all of his years of playing he has played in 17 states: Arizona, Colorado, Iowa, Kansas, Michigan, Minnesota, Missouri, Montana, Nebraska, Nevada, North Dakota, Ohio, Oklahoma, South Dakota, Texas, Wisconsin, Wyoming, as well as Canada and on a Cruise Ship in the Western Caribbean.
The band has 6 recordings: 5 CD's " There's No Time Like Old-Time," "It's Music To Your Ears," " This Is The Life," "Old-Time Festivals," "Oktoberfest, Ja! It's Party Time," and one DVD "Barry Boyce Band Live at Starlite Ballroom for Mollie B Polka Party"
With the amount of dates that Barry books every year, he has had over 50 different musicians play and travel with his band since 1989.
Source: Hall of Fame Induction Ceremony, September 8th, 2013