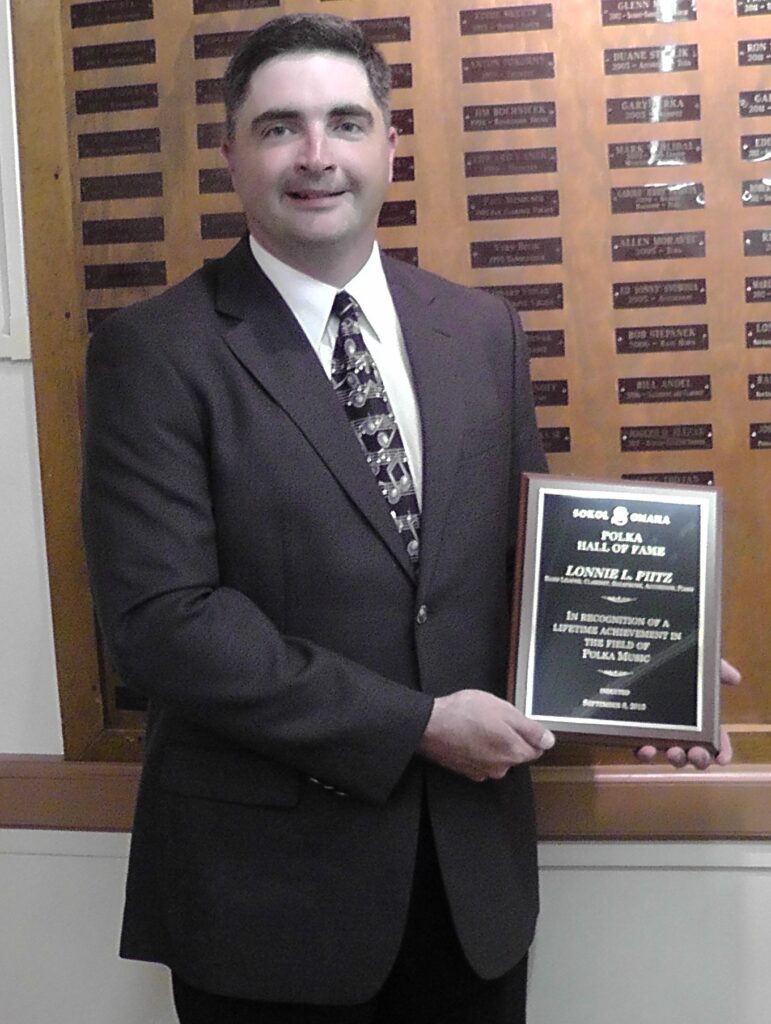 Lonnie Leo Piitz was born on August 24, 1975, Schulyer, Nebraska. His parents are Leo V. and the late Bernice J. Dolezal Piitz. Lonnie and his wife Kimberly live on the family farm west of Brainard, Nebraska. They have four children Suzanne (10), Sylvia (4), Ellie (3), Lainley (1). They are members of Assumption Catholic Church in Dwight, Nebraska where Lonnie is a substitute Organist and Choir Member.
Lonnie attended grade school and high school at East Butler Public Schools in Brainard, Nebraska, where he was on the Honor Roll and a National Honor Society member, and graduated in 1994.
Lonnie started his musical career at age 8 when his dad bought him a Bundy clarinet from Dietze Music in Lincoln, Nebraska. From the 7th grade through the 12th grade Lonnie was a member of the East Butler Public School Band, where he received all superior 1's at contests on clarinet.
Lonnie played his first professional job for Ernie Kucera in Ord, Nebraska, when he was in the 6th grade on clarinet and alto saxophone. Needless to say Lonnie said he was scared to death.
Over the years Lonnie has accomplished the talent of being able to play several instruments Clarinet, Alto & Tenor Saxophone, Button & Piano Accordion, Piano, Trumpet, Tuba, Trombone, Baritone, Drums, also a Music Arranger and Recording Engineer.
The list of Polka Bands or Orchestras that Lonnie has played for are of course Leo Lonnie Polka Band, Studio Trio, Ernie Kucera, Czechlanders, Mark Vhylidal, Ed Staponek, Bill Andel Trio, Basement Three, Kenny Shuda, Ron Nadherny, Jim Bochnicek, Dean Hansen Band & Trio, Little Tavern Band, Eddie Malina, Vern Belik, Tom Sladik, Kevin Koopman's All Star Band, Mike Brecka, Adolph Nemetz, Polka Dudes, out of state bands Gordy Prochaska & The Little Fishermen from Minnesota, Danny Zapletal & Czech And Then Some, David Czarnek both from Texas. Plus extras American Czech Brass Band, Clarkson Czech Brass Band, Dwight Legion Band and Taps Player Dwight Legion.
The list of Big Bands or Ballroom Bands or Orchestras of course the Leo Lonnie Ballroom Band, Leo Lonnie Combo, Ron Nadherny, Dennis Wesley, Jimmy B, Tommy Bishop, Bobby Layne, Len Eby, Pat Mitchell, Dave Lamb Jay Sterling.
Lonnie is the 4th generation to farm and own the Piitz family farm west of Brainard Nebraska. Dad Leo as well farmed and played drums for such bands as Al Grebnick, Adolph Nemetz, and Dennis Wesely's All Stars. Then he subbed for several other bands such as Ernie Kucera and Kenny Shuda until 1991 when he and Lonnie formed the Leo Lonnie Orchestra and played their first dance at the Oak Ballroom in Schuyler, Nebraska. Uncle Leonard who also farmed and played clarinet and tenor saxophone for 40 years with Ernie Kucera and then joined his nepew and brother on the Leo Lonnie Orchestra. Uncle Lawrence who played button accordion (a 4 row Hiavacek bought for him by his dad John, is now owned by Lonnie). Lawrence was the leader of The Golden Star Orchestra and gave Hall of Fame inductee's Joe Prochaska and Don Korinek their first professional jobs.
The Leo Lonnie Orchestra started as a polka band and later formed the ballroom band, also in 2004 the Studio Trio was formed with Lonnie, Allen Moravec, and Steve Hines to play a variety of functions such as Tabor Czech Days in South Dakota, from 1 PM to 11 PM with only one break. South Dakota is not the only state where Lonnie and the band has preformed; he also performed in Iowa, Kansas, Oklahoma, Texas, and Nebraska. There are 4 CD's and 2 Video's available of which one Polka and one Big Band were done in 2001 by Lonnie himself playing all the instruments. This was possible by doing multitrack recording which took many hours complete. So his time was split between Farming, Recording, Mixing, Playing Dance Jobs, and of course in 2001 dating his wife to be.
Source: Hall of Fame Induction Ceremony, September 8th, 2013