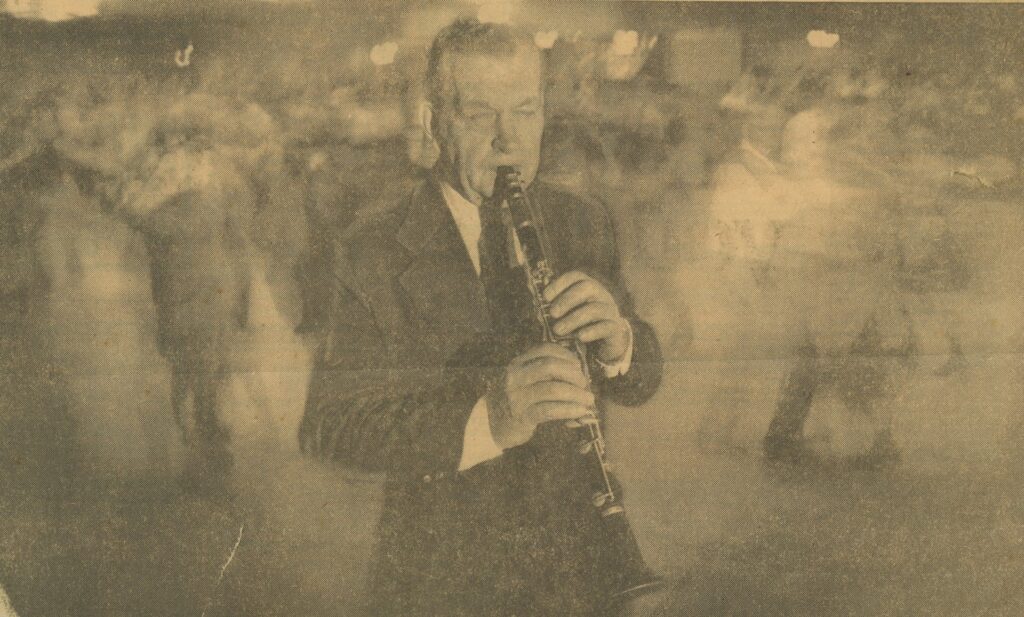 Al Grebnick of Schuyler, who is known as the polka king of Nebraska, began playing the B flat clarinet at the age of 13 in 1932 as a side man with various groups. Prior to organizing his own band, he played with the Kucera Brothers: Beanie Kucera, Ernie Kucera, Loe Lukesh, Math Sladky and Jerry Havel.
He formed his own band in 1956 with his son Kenneth, Herman Liska, Leonard Pitz, Leo Pitz and Frank Sobota as the original members.  It was also in that year that the band had a prime time TV show on KHAS Hastings for 26 weeks and also appeared on KOLN TV on their noon day show.  This helped the band immensely to become established in the Midwest as a top band.
The band now has an hour-long radio show from 12:30 on Radio station KTTT, columbus, Nebraska. In 1957, the group recorded their first release, a 78 rpm record. To this date, the band has 14 45 RPM records, 27 long-play albums, 20 eight-track tapes and nine cassette tapes on the market which are sold on the Nebraska Record co. label, a company which Al owns. These records and tapes are selling throughout the United States, Canada and other foreign countries. All music for the band is especially arranged and most arrangements are written by Al and Herman Liska. Al collects many tunes from Czechoslovakia on the various tours he makes of that country, then records them on records and tapes. He also finds new tunes that appeal to him on his many tours in other states. The band has toured and played dances in Kansas, Oklahoma, Texas, lowa, Ohio, New York, South Dakota, North Dakota, Canada and Czechoslovakia.
Al says that perhaps the most exciting experience in his 47 years of music was getting booked into the state of New York, flying in by jet, and being treated royally by the Czechs and Slovaks in the Binghampton, Endicott, Endwell and Johnson city areas. He was given many gifts by those people and after the dance tour the band was escorted to the airport by a local band playing polka music while Al and the boys boarded the jet for Nebraska.
In the past years, the following have been members of his orchestra for at least a year's duration: Milo Palensky, Dave Spale, Francis Besch, Joe Stehlik, Duane Stehlik, Del Hamann, Duane Tomsicek, Ed Spinar, Norman Sodomka, Jerry Chaloupa, Bert Hrnicek, Ray Dusatko and Marlyn Grubbs.  Present members of the orchestra are Al, Ken Grebnick, Bob Krivohlavek, Herman Liska, Louis Rezac, Joe Masek and Joe Cada.
Al and his lovely wife, Lucille, live in Schuyler. They have four children, Ken, Al Jr., Randy and Sue, and one granddaughter, Natasha. Al, when asked if he had to do it all again, would he take up dance music, answered…
"Yes, dance music, and especially Czech polkas and waltz music has been very good to me.  But most important are all the friends we have made. All the cities and towns we have appeared in really have made it a good life."

Al Grebnick
"Yes," Al repeated, " I would do it all over again if given the chance."
Source: Hall of Fame Induction Ceremony