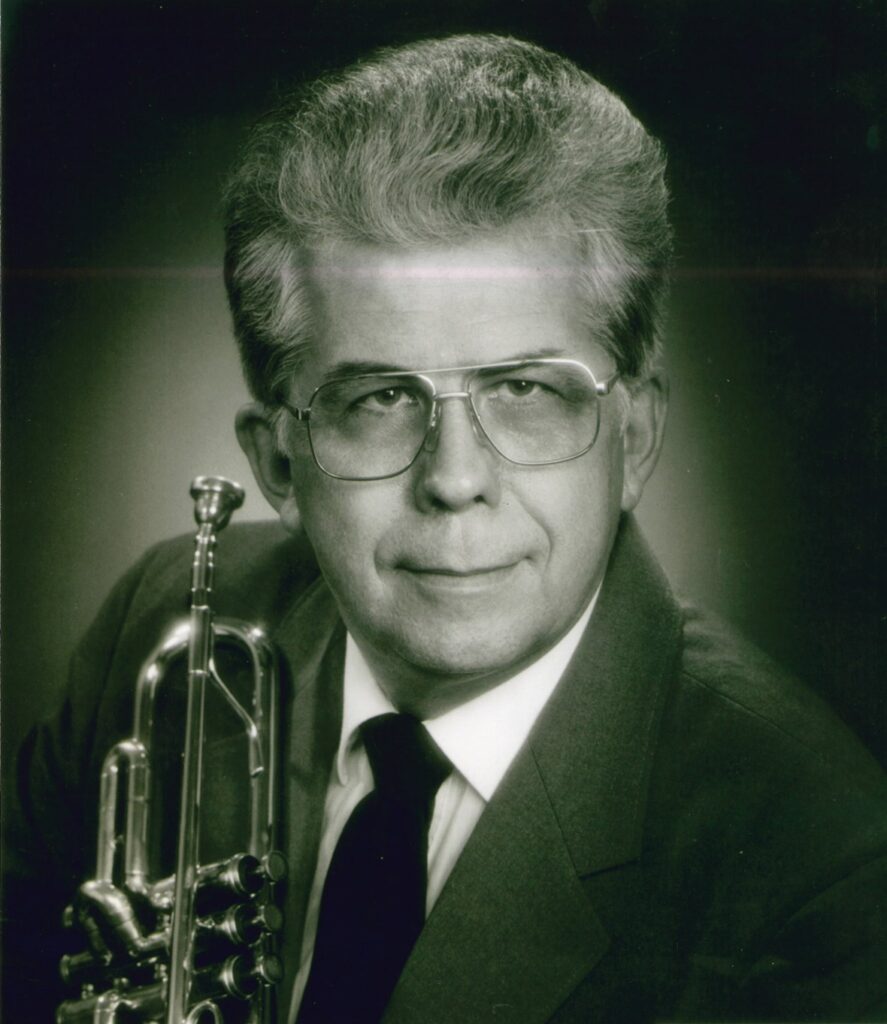 Ron Nadherny currently has two awards in the Sokol Omaha Polka Hall of Fame:  One as a bandleader, inducted in 1981, the other was for a Service Award for management of the Sokol Auditorium, awarded to Ron in 2011.
Ron Nadherny was born October 4th, 1934 in Lincoln, NE. He lived on a farm till the age of 5 and the family moved to Omaha, NE in 1942. He attended Grade and High school in Omaha and prayed trumpet In the South High School marching band.
His music career began at the age of 15 playing his first polka dance engagement In 1950 with the Cardinals Orchestra. Throughout the 50's, Ron worked with the following bands: Sparta Orchestra, Red Raven Orchestra, Charlie Kucera Orchestra, Golden Prague Orchestra and the Dave Huskey Orchestra.
In 1956, Ron decided to advance his musical knowledge and joined the Skippy Anderson Orchestra playing Big Band Music. He also played with the following Big Bands: Tony Bradley Orchestra, Lambert Bartak Orchestra, Mal Dunn Orchestra Dick Wickman Orchestra, Don Hamsa Orchestra, Greg Spevak Orchestra and Bobby Layne Orchestra.
Ron entered the Army In 1957 and eventually Joined the 443rd. Army Band In Fort Chaffee, Arkansas. After band training, he was shipped overseas to Korea where he joined the 1st Calvary Band as a Trumpet player and eventually became the Drum Major of the band until late 1959, when he was released from the Army and came back to Omaha.
About a month prior to his release from the Army, Ron received a call from John Wllfahrt to Join the Nation's No. 1 Polka Band, Whoopee John Orchestra, which operated out of St. Paul, Minnesota. He traveled with the band throughout the upper Midwest from Canada to Kansas, Illinois, Wisconsin and to the west end of North Dakota. He also recorded 2 Albums on Decca Records with this band and performed on live Radio and TV shows. The Whoopee John Orchestra usually had an occasional Monday off however; there were many months they only had one night off. Ron recalls one year, the band played 328 nights covering 475,000 miles. On May 27, 1961, after 2 years with the band, Ron decided to quit the traveling and returned to Omaha.
After returning to Omaha, Ron resumed playing Polka and Big Band music with the local bands. Some Interesting things Ron had the pleasure of doing was playing with the Ringling Brothers, Barnum Bailey Circus and the Shrine Circus Bands. He also worked a week with the Ak-Sar-Ben Rodeo Band and the Ak-Sar-Ben Coronation Ball with the 6 Fat Dutchmnen which included other bands.
In January, 1970, Ron joined the Don Hamsa Orchestra for a period of 3 Yrs. When Don retired his band, he formed the Ambassadors Combo which Ron was a member and performed for a period of 3 years. During this period, he filled in with many other bands such as Nebraska's No.1 Polka Band, Ernie Kucera, AI Grebnick, Eddie Janak, Vern Luddington, 6 Fat Dutchmen, Elmer Scheid, Feu Fritsche, Earl Schmidt, Jerry Schrift, Eddie Skeets and The Paulsen's Dutchmen. He also had the opportunity to fill In with the Eddy Howard Band in Lincoln, Ne. and the Jan Garber Band (Under the direction of Dick Wickman) at Peony Park in Omaha, NE.
Ron got into recording which was one of his hobbies and in 1969; he began working for Liberty Tape Duplicating Co. as a Mastering Engineer. This company produced 8-Track and Cassette tapes. During the 16 years of employment Ron headed up the Mastering Department which helped him hone his recording skills. This company was eventually purchased by United Artists and later by Capitol Records in Council Bluffs, IA. Ron also became the Recording Engineer for a new Polka Label named Czech Records. Eventually, Ron started his own recording business which he had for 12 years. At the request of Bobby Layne (who purchased the Pla Mor Ballroom in Lincoln, NE), he produced a half hour Radio PolkaShow called the Pla Mor Polka Party. This show aired every Sunday for 4 years, which was broadcast on KGMT Fairbury, NE. and KOTD in Plattsmouth, NE.
Ron started his own Polka Band In 1973, and played his first job at the newly purchased Pla Mor Ballroom In Lincoln, NE. This band played numerous Eastern Nebraska engagements as well as in Iowa, Minnesota, and Missouri. They also played the annual Polka Festival at Pla Mor Ballroom for 31 consecutive years, and festivals in Gibbon, MN, Durant, IA, Norfolk, NE and Sokol Auditorium In Omaha, NE. Only one recording of the band was made titled "Ron Nadhemy plays – 'Under One Roof' Polka" which became a hit. Ron also composed numerous Polka and Waltz selections such as; Why Polka, Echo Polka, Last Sun Polka, Herby's Laendler (which was recorded on Decca Records by Elmer Scheid), Denny's waltz, Bert and Lou Polka and the Paulsen's Dutchmen Polka.
Ron was working with Big Bands and during this time and in 1996, he decided to form a nine member Modem Big Band. This decision was because Polka music was in a decline due to the aging crowds and the young people weren't supporting Polka Musk. Some people told him that he wouldn't succeed; however, he said he would by playing good dance music for the aging crowd because they wanted to hear and dance to old favorite tunes. The band became very successful and lasted 18 Yrs before he retired the Modern Band In June, 2012 and retired the Polka Band In September, 2012.
Over the years, Ron has donated his music talents for Nursing Homes, Cancer Telethon, dances and other benefits for non-profit organizations. Ron's family includes; Son Dennis who resides in Sparta, Wisconsin and is the drummer for Gary Brueggen and the Ridgeland Dutchmen. A Daughter Donna Heyden who resides in Omaha, Nebraska and four Grandchildren, Justin, Twins, Harry and Heidi, and Max.
Source: 2013 Frankie Award, Polka America Corporation, www.polkaamericacorporation.com/2013FrankieWinners.htm