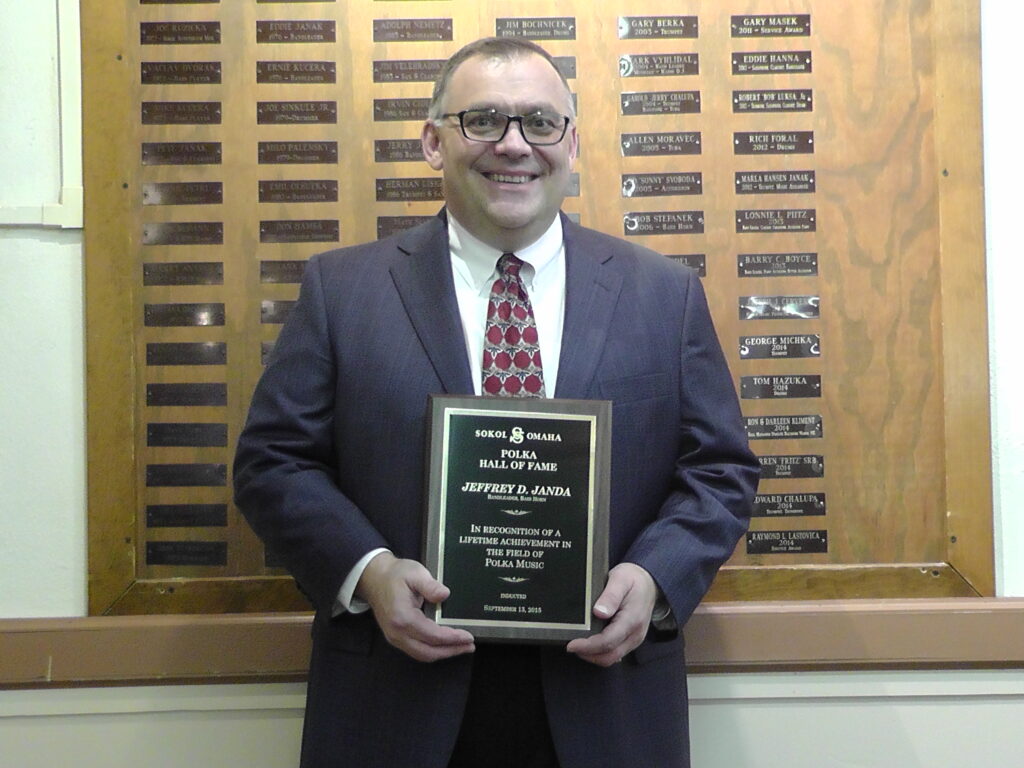 Jeffrey David Janda was born on April 26th, 1965, in Omaha, Nebraska. His parents are Micahel J. and Joyce Yakopec Janda. Jeff and his wife Cheryl Janak Janda live in Omaha, Nebraska, and they have four children: Emily, Stephen, Peter, and Anna.
Jeff attended Assumption Catholic Grade School in Brown Park Omaha and Creighton Prep High School, graduating in 1983. He then attended Creighton University where he received a Bachelor of Science of Business Administration, and a Major in Accounting degree in December of 1987.
In 1978, at the age of 13, Jeff got a tuba and began taking private lessons from Rudy Dvorak and also played in the Assumption School Band. In high school at Creighton Prep, he was a member of the band under the direction of Doug Johnson. While in high school, he took private lessons under tuba greats Randy Hlavac and Craig Fuller. Jeff was selected to be in the Nebraska All-State band, as well as the Nebraska Weslyn Honor Band in 1982 & 1983.
Jeff played his first professional job at the Sokol Auditorium with the Frankie Remar Orchestra on May 12th, 1979. The list of bands that he was a regular on the stage include:
Tom Kunhardt (1979-1980)
Charlie Svagera and the Professors (1979-1980)
Frank Hazuka (1980-1984)
German Old Tyme Band (1980-late 1990s)
Jim Bochnicek (1984-1987)
Omaha Czech Brass Band (1986-late 1990s)
Barry Boyce (1987-2005)
Jeff Janda and the Brown Park Orchestra (1987-late 1990s)
Janak Family Band (1994-Present)
Nebrasaka Czech Brass Band (2005-Present)
Trubadury (The Troubadors) (2010-Present)
Leo Lonnie (2015-Present)
Since that first professional job in 1979, Jeff has performed with the following bands:
George Folan
Rich Novak and the Jolly Yanks
Lucille Witmuss
Reynold Woita
Duane Stehlik
Tommy Bishop
Chuckk Skokan
Dick Janak
American Czech Brass Band
Frank Kostka and the Boys
The Young Czechs
Lonny Lynn
Frank Kostka and the Jolly Yanks
Vlasta Krsek, The Polka Queen of Chicago
Eddie Svoboda and the Red Raven Orchestra
Bob Blecha and the Bouncing Czechs
Johnny Armburst and the Polka Kings
The highlight of all the years of playing was the trip with the Omaha Czech Brass Band to Czechoslovakia in 1987. He has traveled to Colorado, Wyoming, Kansas, Texas, Iowa, North and South Dakota, Minnesota, Ohio, Michigan, Wisconsin, and Saskatchewan, Canada to play jobs mostly with Jim Bochnicek.
In discussing his life and musical career points, Jeff points to the first job he played for Jim Bochnicek in Verdigre, Nebraska, on June 2nd, 1984, meeting a young trumpt player named Cheryl who, 10 years later, later became his wife.
Source: Hall of Fame Induction Ceremony, September 6th, 2015