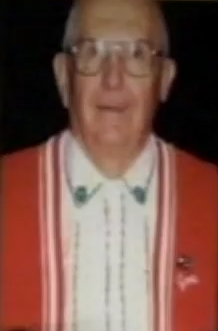 The late Joseph J. Cerveny was born on October 23, 1930, Omaha, Nebraska his parents were Frank and Francis Cerveny. Joe's 1st wife was the late Helen Lindley Cerveny, he is survived by wife Elsie Sand Cerveny and children Linda Baker, Joseph Jr., Kathy Skillstad, Diane Rosener, and Daniel.
Joe attended grade school in Omaha Public Schools and graduated from Omaha South High School in 1948. After graduating he played semi-pro baseball for a few years before starting a long career as an electrician.
Growing up in South Omaha Joe had a love for Polka Music even though he didn't play an instrument he felt he could have an impact on the industry. In the mid 1960's, he started the Czech Record Company and recorded his first band The Eddie Janak Orchestra, which was recorded at the Sears Studio in Omaha. For the next approximately ten years Joe and his recording engineer Ron Nadherny recorded several groups that included Eddie Janak, Paulsen's Dutchmen, Oldtimers, Dean Hansen, Ernie Kucera, Omaha Czech Brass Band, Fezz Fritsche, Adolf Nemec, Elmer Scheid, John Czech and The Wisconsin Dutchmen, Peter and Paul Wendinger, Charlie Dvorak, Frank Hazuka, and a Tribute to Jerry Mazanec. In the mid 1970's Joe sold the business to Moostach Joe Spellerberg.
In the late 1980's Joe got the urge again to start another polka business this time it was called Czech Polka & Waltz Video Tape Production Company. The first recording was done right here at The Sokol Auditorium and featured Ernie Kucera, Dean Hansen, and Frank Kostka and The Boys. Several bands were videoed over the next few years. The Nebraska area bands were American Czech Brass Band, Leonard Becwar, Vern Belik, Bob Blecha, Tommy Bishop, Czechlanders, Al Grebnick, Frank Hazuka, Jim Hovorka, Howells Hot Shots, Jeff Janda, Jolly Yanks, Jim Kucera, Leo Lonnie, Vern Luddington, Ron Nadherny, Moostach Joe, Omaha Czech Brass Band, Oldtimers, Polka Kings, Dave Salmons, Kenny Shuda, Math Sladky, Allen Valish, Mark Vhylidal, and Mark Karasek. Some of the national bands were Karl Binovec, Harry Czarnek and The Texas Dutchmen, Kovanda's Czech Band, Six Fat Dutchmen, Erwin Suess, Vrazels, Walter Ostanek, Dick Tady, Joey Tomsick, Frankie Yankovic, Hank Hailer, and Duane Malinowski.
Joe still wasn't through promoting the music he loved so in the 1990's he and friend Jackie Gaughn, who owned the Union Plaza Casino in Las Vegas, Nevada, decided to put on a Polka Fest but this wasn't an ordinary fest. To get there was the fun part, it started in Cleveland, Ohio; you could get on the train and ride all the way to Las Vegas with pick up stops along the way. It was called the Polka Train and Festival.
Joe received many recognitions and awards from various organizations acknowledging his contributions to the promotion of Polka Music and Czech Heritage. Then in 1991 he was awarded an Admiralship in the Nebraska Navy by Governor Ben Nelson.
Joe passed away on September 25, 2009.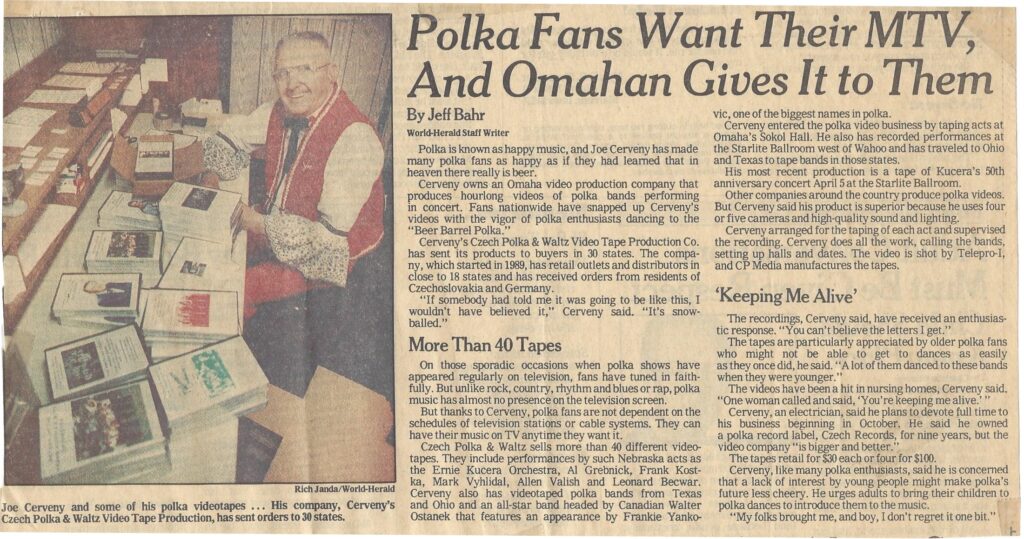 Source: Hall of Fame Induction Ceremony, September 8th, 2013