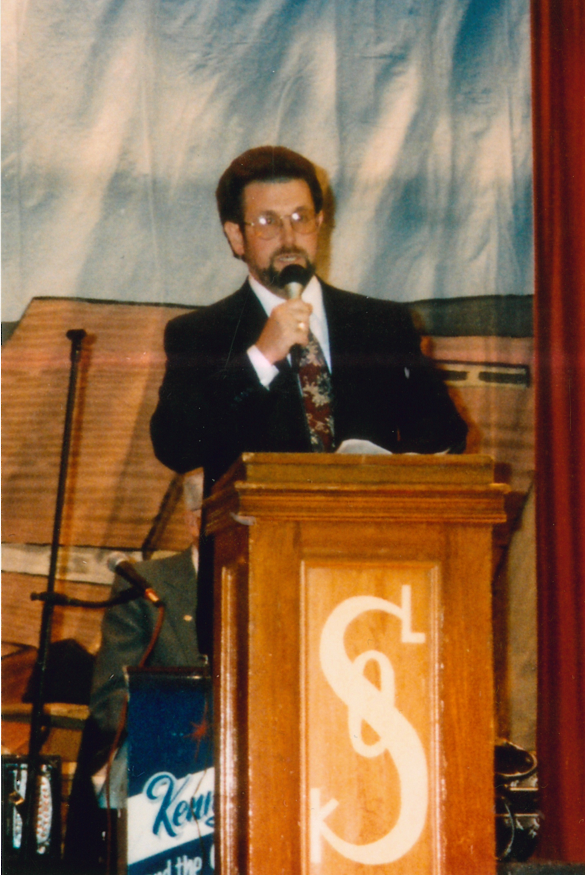 Dean Fornoff was born in Omaha, Nebraska June 7th, 1950 and was introduced to Polka Music at a very young age by going to local dances with his parents, Walter and Gladys Fornoff. Dean's uncle, Elmer Helwig played drums with a 4 piece Polka band where Dean would sit and watch and hope for the chance to someday play the drums. As his uncle was winding down his drumming career, he took his drums to Dean's parent's house so when someone would ask him to play, he could say that he no longer had his drums, this way he would not be telling a lie.
At this time, 1959-60, Dean began to "fool" around with the old drums in his parent's basement.  Not having a record player to practice with, he could only get in 30 minutes of rehearsal per week by listening to radio station KHUB in Fremont from 12:30 to 1:00 pm on Sunday afternoons.  If conditions were just right, sometimes he could get Ernie Kucera on KJSK in Columbus, Ne.  On Saturday mornings, KMA radio in Shenandoah, Iowa had Polka Music on at 5:30 am, so he would set his alarm to get up and get more practice time.
At about this time, a group of young musicians were trying to form a 5 piece Polka Band. They had 2 accordion players, Bennie Wohlberg and Bob Ulip, Terry Jaros on Sax and Clarinet and Kenny Meisinger on Tuba. They did not have a drummer. One of the parents that worked with Dean's uncle Elmer, called Elmer to bring his drums to a rehearsal so the boys could see what it was to have a drummer for the rhythm section. Elmer said, "On one condition, that I can bring my nephew Dean along as he is trying to get started playing Polka music." This was April of 1961 when Dean was only 10 years old. The rehearsal went so well that the 4 members asked Dean if he would like to join their band and that was the beginning of his drumming career.
The first band was named the "Double BB Beer Barrel Polka Band. Dean's first job was at Offutt Air Force in the NCO club for NO pay. This young group had great support from their parents, one being Jerry Jaros who ran the very popular SPARTA Orchestra in Omaha, Ne. After 2 years with the Double BB band, college and other ideas brought this band to a halt. At this time Dean and Bob Ulip on Accordion along with Chuck Skokan on Tuba began doing a Trio gig. Then in 1966 Dean joined Cy Menousek and Joe Tourek with the JK Orchestra in Omaha and played full time until 1968 when he was asked to play with The Frank Hazuka Band. At this time Dean was filling in with many different bands and learning new music and styles. He also had many occasions to set in with the Eddie Janak Orchestra. This is when he really got excited about Polka Music.
In December of 1969, Dean was filling in with the Eddie Janak Orchestra at the German American Home on South 13th Street in Omaha, when he saw this young lady dance by that caught his eye.  He asked her to dance. Her name was Cindy and they have been dancing ever since.  In January 1971 Dean had a date with Cindy on a Saturday night when her phone rang and it was Ron Nadherny.  He said, "This is no joke, our drummer had a heart attack on the way to the job and you have to come to Oft's Hall in Bennington, Ne. to play drums."  The band was the DON HAMSA ORCHESTRA.  Dean had little or no experience in Big Band Music, but he told Cindy, sorry, I have to go play drums tonight and the date was postponed.  When Dean got to the stage the band was already playing and Don said to Dean," take that brown paper sack behind the stage, take big swig and a big deep breath, I will start you and I will stop you on each tune, all you have to do is play."  That was it, Dean was hooked on Big Band as well as Polka music.
The Don Hamsa Orchestra ended in 1972 as Dean was drafted into the Army and would be gone for training. Upon his return in 1973, Ray Dusatko gave Dean a call to play a 2 piece gig at an Omaha Country Club. This went well so they added Ron Nadherny and then Don Hamsa, this group became the Ambassadors. Dean worked 9 years with the Ambassadors and they worked many occasions. Also, in 1973, Dean played a 2 day festival with Myron Floren of the Lawrence Welk Band, at Peony Park in Omaha.
In 1982, Dean's family and farming was taking priority and he decided to take a break from music. He did not play for over a year. By now he was getting acquainted with a local Omaha County Band called,"Backtrack". Their drummer was leaving Omaha and they asked Dean if he would like to join their group, so in 1983, Dean was back to full time drumming. Again, a whole new venue of music to learn. The group was very popular in the local lounge circuit in Omaha and many times playing 5 nights a week. In 1984, Marlboro Tobacco had a County Music Talent contest that "Backtrack" entered. After several auditions and tryouts the band won the competition. "Backtrack" was the opening act the Omaha Civic Auditorium with 8,600 people. They opened for Ronnie Milsap, Ricky Skaggs and Merle Haggard. This was a great time for the band. But as we all know, all good things must come to an end. In 1985 "Backtrack" ended when the members had different ideas and goals.
Dean has been very fortunate to have played with some of the best.  Some of his most influential people to him in the business have been, Charlie Dvorak, Ron Nadherny, Don Hamsa and Eddie Janak.   He has played from Michigan to Minnesota and from Las Vegas to Texas and everywhere in between.  One of the most memorable trips was a 10 day tour to the Czech Republic in 1987.  That was a great highlight with the Omaha Czech Brass Band.
For the past 20+ years Dean has not played steady with any one band. The bands that he has had the honor of working with include:
Double BB Polka Band, The Little Oompah's, Bob Ulip Trio, JK Orchestra, Frank Hazuka, Eddie Janak, Oldtimers, Ron Nadherny Big Band and Polka Band, Barry Boyce, Bob and Greg Blecha, Don Hamsa, Dick Wickman, Orville Von Seggern, Dennis Wesely, Greg Spevak, Ambassadors, Frank Kostka, Charlie Svagera Trio, Mark Karasek, Vern Luddington, Jeff Janda and the Brown Park Orchestra, Teddy G., Charlie Dvorark, Bored of Directors, Adolph Nemec, Tribute to Jerry Mazenec, Tommy Bishop, Peter and Paul Wendinger, Karl and the County Dutchmen, Six Fat Dutchmen, Elmer Scheid, Mark Jirkovec, Old Tyme German Band, Allen Valish, Dean Hansen, Jim Bochnicek, Leo Lonnie Orchestra, Pat Mitchell, Del Haman, Wayne McDermott, Lambert Bartak, Lonnie Lynn Orchestra, Polka Kings, Bobby Z and Polka Joy, Railcar Street Jazz Band, Bob Rabe, Frankie Remar, Moostache Joe, Duffy Belhorad, Kenny Janak Orchestra, Kenny Shuda, Czechlanders, Coppersmith's, Duane Stehlik Trio, Rudy Dvorak and friends.
During his career of drumming he has recorded with the following bands: Eddie Janak, Teddy G., Tribute to Jerry Mazanec, Omaha Czech Brass Band, Jeff Janda, Ron Nadherny, Vern Luddington, Mark Karasek, Kenny Shuda, Charlie Dvorak, Rudy Dvorak and friends. He also Video recorded with Jeff Janda, Omaha Czech Brass Band, Allen Valish, Ron Nadherny and The Six Fat Dutchmen.
Dean was inducted into the Omaha Sokol Hall of Fame in 1997 and inducted into the Musicians Hall of Fame of Milligan Nebraska in 2017. He has made a lifetime of friends that he would have never made had it not been for the love of music. It has been a wonderful journey of seeing people on the floor dancing and smiling and forgetting their problems for a couple of hours all because of the music.
Dean graduated from Peru State College in 1972.   He and Cindy were married in June of 1972 and lived on his family farm where Dean farmed with his father and Brother Ray until 1987.  He has worked as an insurance sales representative since 1988.  He and Cindy now live southwest of Springfield, Nebraska.  They have 3 children, Nichole, married to Jim Jansen of Gretna, Ne.   Michaela, married to David Bidrowsky of Springfield, Ne. and son Kyle Fornoff, married to Jennifer of Gretna, Ne.  They also have 4 grandchildren, Alexis and Kaleb Jansen, Makenna Bidrowsky and Kamden Fornoff.
Source: Hall of Fame Induction Ceremony