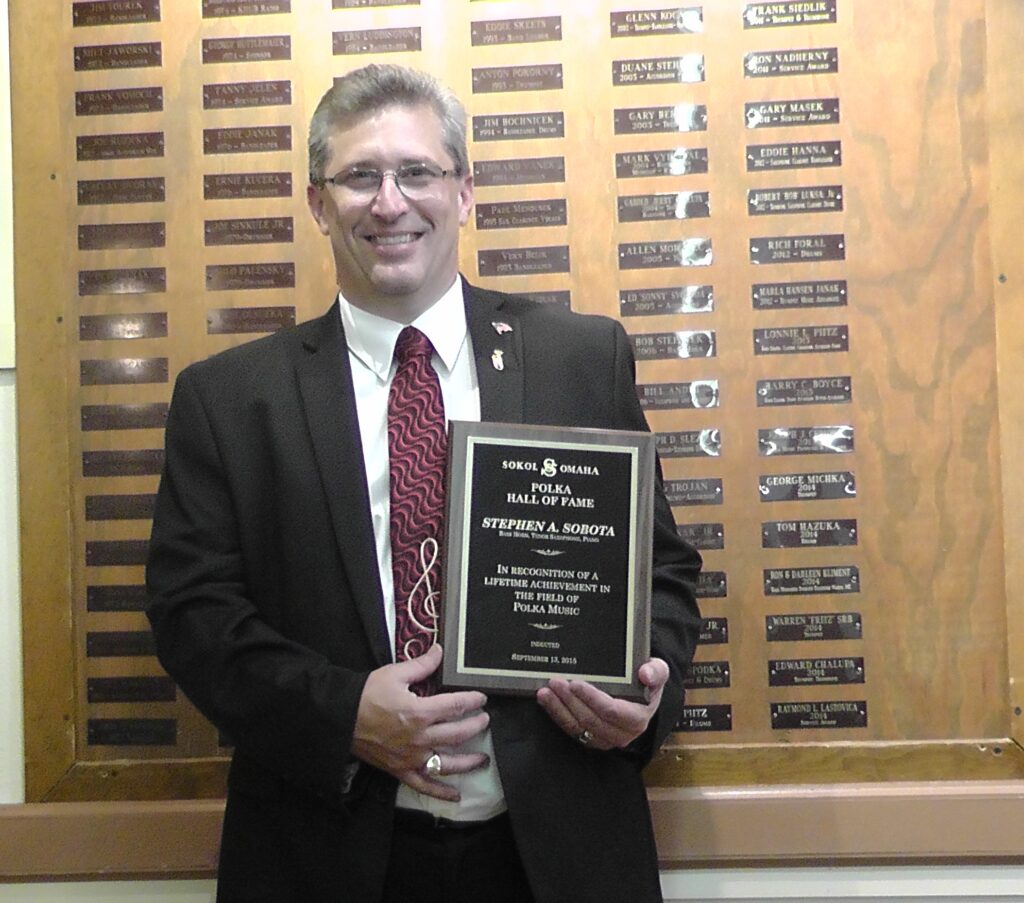 Stephen Anthony Sobota was born on April 18th, 1968, in Schuyler, Nebraska. His parents are the late Frank (a 2003 hall of fame inductee) and Jean Sobota of Columbus, Nebraska. Steve and his wife, Lynn Marie Sobota, live near Blair, Nebraska, and they have 2 sons: Michael, in aircraft maintenance with the Nebraska National Guard, and Stephen, a junior at Blair High School.
Steve attended grade school at St. Isidore Catholic Grade School in Columbus, Nebraska, and graduated from Columbus Discoverers High School in 1986. He then graduated with a Bacher of Science/Business Administration Degree from Nerbaska Wesleyan University in 1991.
At the age of 7, Steve started piano lessons and, in a couple of years time, began plauing the pipe organ at daily Mass for Sister Joan at St. Isidore. At the age of 12, he then started playing tenor saxophone. Then, at the age of 14, under the private instruction of his father, he began playing bass horn. While in high school, he played tenor saophone in the jazz band and bass horn in the marching band. In 1984, he was selected for Nebraska Bandmasters All-State Band, the only time he tried out for the band. While in college at Nebraska Wesleyan, he played tenor saxophone under director Dean Haist.
On New Years Eve 1984, Steve played his first professional job with John Vincek and the Polka Keynotes at the St. Paul, Nebraska American Legion. Steve has performed with a number of polka and ballroom bands:
Syl Boro and The Polka Gems
John Vineck and The Polka Keynotes
Tony's Polka Masters
Greg Blecha and Friends
Kark and The Country Dutchmen
The Goodtime Dutchmen
Gary Brueggan
Tommy Bishop
The Czechlanders
The American Czech Brass Band
The Nebraska Czech Brass Band
Becky and The Ivanhoe Dutchmen
Bob Rabe
Kenny Shuda
Al Grebnick
And, of course, Nebraska's #1 Ernie Kucera
On the ballroom side:
Greg Spevak
Ron Hadherny
Jimmy B.
Oh yeah…Steve was the only bass player to play in Jeff Janda and the Brown Park Orchestra, as Jeff was unable to play the job.
Source: Hall of Fame Induction Ceremony, September 6th, 2015