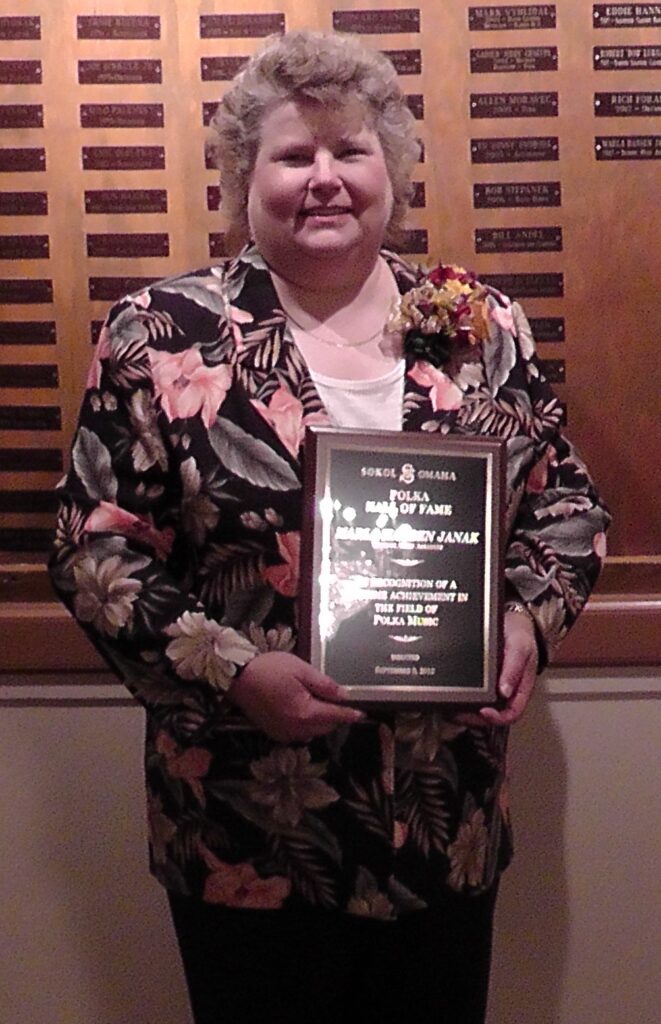 Marla Jean Janak was born on April 15, 1961 Omaha, Nebraska, her parents are Dean and Marguerite Hansen.  Marla and her husband Rich live in Papillion, Nebraska. They have a son Jared.
Marla attended grade school at Elkhorn and Mead public schools and high school at Mead and graduated from Wahoo Bishop Neamann high school in 1979. Marla graduated with a Bachelor of Arts Degree from Midland Lutheran College in 1983, and then graduated from the University of Iowa with a Master of Arts Degree in 1987.
Marla started her musical career at age 8 when she took piano lessons, as she stated that was the start of everything. Then at age 10 while in the 4th grade Marla started music in school on trumpet because dad Dean had an old trumpet in the closet and didn't want to rent another instrument. Marla got her first step-up trumpet a Sterling Silver "Doc Severinsen" Getzen Eterna that her dad bought from Jerry Hospadka.
Upon graduation from college Marla began her teaching career at Anita Community Schools Anita, Iowa 1983-85. Lewis Central Schools Council Bluffs, Iowa 1986-91. St. Columbkille Elementry School Papillion, Nebraska 1995-97. Springfield Platteview Community Schools Springfield, Nebraska 1999 to the present day.
Marla's list of teaching awards and offices held Southwest Iowa Bandmasters District Representative 1984-85. Lewis Central 6th grade band select band for "Iowa Bandmasters Convention" 1998. Platteview 6th grade band 10 consecutive Superior ratings at contest. Platteview Junior High Jazz Band 10 consecutive Superior ratings at contest. Nebraska State Bandmasters Association Middle level Representative 2011 to present. Contest Adjudicator for many band contests in Nebraska.
Marla played her first professional dance on July 8, 1978 with The Jim Bochnicek Orchestra at the Community Hall in Minden, Iowa.
The list of Polka Bands or Orchestras
Dean Hansen (34 years)
Eddie Ulch
Chuck Skokan
Allan Valish
Little Tavern
Kenny Shuda
The list of Big Bands (Ballroom and Swing Music)
Lonny Lynn (29 years)
Ron Nadherny (14 years)
Tommy Bishop (11 years)
Len Eby (9 years)
Jimmy B
Greg Spevak
Dennis Wesley
Triple Deuce
Jack Morgan
Bobby Layne
Eddie Skeets
Jan Garber
Leo Lonnie
Duffy Bolerad
The list of Miscellaneous Groups and Preformances
Omaha Playhouse Theater
Omaha Big Band
Nebraska Chamber Orchestra
Blair Community Band
Cedar Rapids Community Band
Iowa City Community Band
Eastern Iowa Brass Band
Iowa Western College Band
Springfield Legion Buglar
Omaha Brass Werks Quintet
Metropolitan Brass Quintet
Marla while in her Freshman year of college was helped testing out in her music classes by copying Polka Music from records and cassette tapes. With these skills she has written over 200 arrangements for Dean Hansen, Lonny Lynn, Kenny Nelson Trio, and Eddie Ulch. She has also made recordings with Jim Bochnicek, Dean Hansen and Lonny Lynn.
Marla in 2004 played 116 dance jobs the most she ever played in one year.
Source: Hall of Fame Induction Ceremony, September 2nd, 2012