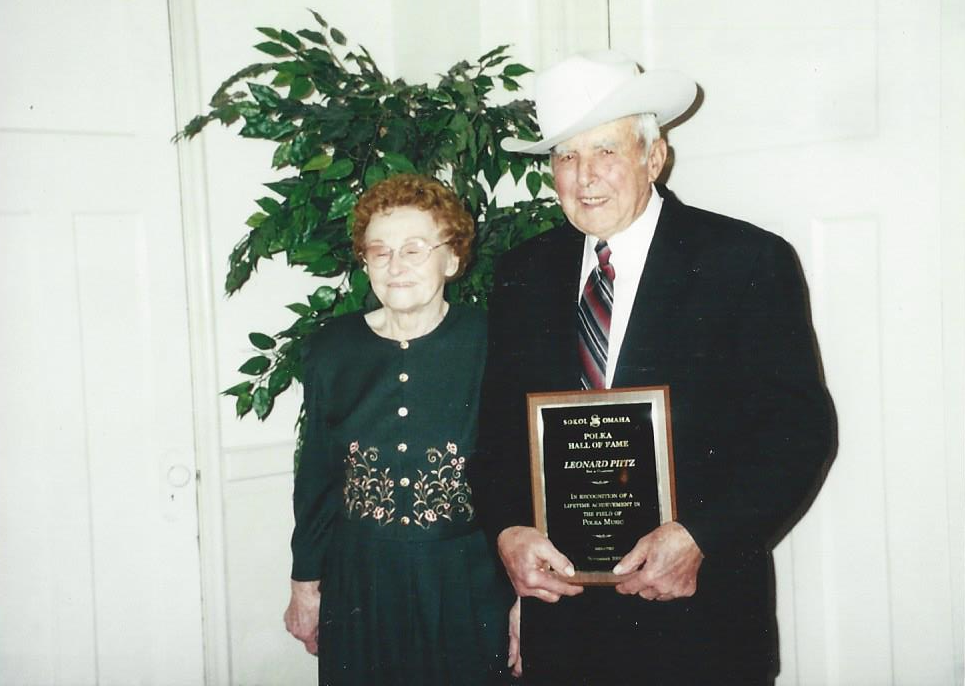 I received my music instruction at the Brainard High School under direction of my music instructor, Mr. Fred Semin. I graduated in 1939. After graduation my brother, Lawrence, and I organized an orchestra, calling it the Golden Star Orchestra.
The original Golden Star Orchestra was started in 1939, 61 years ago. At that time we had two Clarinets, bass, drums, trumpet, sax and accordion, until in the late 1940's when we went to a trumpet, trombone, accordion, bass, drums and two saxophones. The personnel in this orchestra was Val Sypal (trumpet), Milo Sypal (trombone), Jerry Siroky (bass) Frank Curda (drums), Lawrence Piitz (accordion.) These five are all deceased. Alto sax player John Rerucha of David City and myself on tenor sax.
We made a radio broadcast over radio station KMMJ in Grand Island, Ne. in 1940. The announcer was Joe Lukesh and a person by the name of Ernie Prucha of Howells recorded this broadcast on the hard type 78 discs.  Anyway, I had these 78 records, some which were played on the old type phonograph and were distorted and had scratches on them. I picked out seven numbers and put them on cassette tapes. We played polkas and waltzes and traveled in a 1929 Oldsmobile and pulled a trailer. We also made broadcasts over Norfolk and Fremont radio stations. This is the history of the Golden Star Orchestra.
The Golden Star Orchestra disbanded in 1942. I then did play a short time with the Albin (Beenee) Kucera Orchestra until he was called to the Army, when his brother Ernie took over the orchestra. I played with Ernie until 1945 when I was called for the Army. After returning from service, I went with the Math Sladky KLMS Polka Band. After leaving Math's band, I went with the late Al Grebenick band in 1950 for about four or five years. We played over the KHAS—TV station in Hastings on Sundays. After this stretch, I went back with Ernie Kucera Orchestra, of which I played most years. I might mention that Ernie's orchestra played in Texas, Oklahoma, Kansas, South and North Dakota, Wisconsin, Ohio, Iowa, Minnesota, Colorado, and of course, Nebraska. We also played in Canada and in 1983 we played in Czechoslovakia on the Tour of Music. Last of all, I would like to see more polkas and waltzes dances come about. At present, I play with my brother and nephew with the Leo-Lonnie Orchestra of Brainard.
Source: Hall of Fame Induction Ceremony, written by Leonard Piitz himself