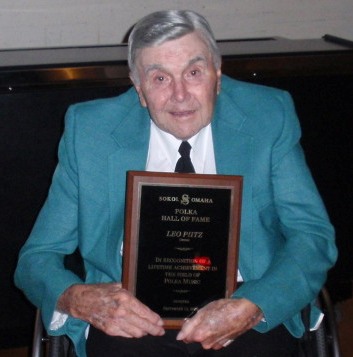 Leo Vincent Piitz was born on January 21, 1928 to John J. and Emma (Behne) Piitz on the family farm three miles West of Brainard.  He joined two brothers, Lawrence H., and Leonard J. and one sister Lorraine E.  He attended Plain View #20 country school and like a lot of farm kids, he was needed on the farm, so he attended till the eighth grade.
The Piitz family was a very musical one.  Leo's brother Lawrence played button accordion and had his own band called the Golden Star Orchestra.  Lawrence also subbed for Joe Lukesh on several occasions when Joe couldn't make it.  Leonard played in his brother Lawrence's band and then went on to play with several orchestras and then joined the Ernie Kucera band where he played for several decades.  Leo's father, John, was in charge of booking the bands at Center Church hall, four miles west of Brainard, NE.  John hired several bands including the first Lawrence Welk Orchestra.  Leo would stand by the stage on several occasions and watch the bands play, especially the drummer.
Leo one day told his parents when he was in grade school that he would like to play drums.  His parents then bought him his first set, a toy set of drums.  Well, a few years went on and Leo would practice and practice between all the farm chores he had to do to help the family farm.  He would practice with records and play along with bands on the radio.  With all the practice, it was time for Leo to move up.  So Leo bought his first set of drums from a family in David City, NE.
His first job was with his brother's band, Golden Star, in 1942 in Loma, NE.  He continued to help his brother's band out which in a few later years, the name was changed to Larry Leonard.  When the band disbanded, Leo would still continue his love with music.  He would go to several dances.  Watching bands and of course dancing.  Soon, Leo's talents were discovered by many bands.  Leo would help out several bands through the years.
Musicians always watch and learn from others.  This is where Leo got his trade mark sizzler on his ride cymbal.  Leo recalls seeing Dennis Wesley's drummer, Rich Spirling, using this new contraption and how well it sounded.  The device, a bottle opener on a piece of string hanging on the ride cymbal.  This also came in handy if Leo or any of the band guys needed to open a bottle of beer.  In 1955, Leo was contacted by Harold Loeffelmacher and the Six Fat Dutchman to join the band and go on tour with them.  Due to Leo being self-employed in farming, he had to turn it down.
In 1957, Leo was called by a guy from Schuyler, NE who wanted to start up a band and would like for him to come to Linwood, NE for a rehearsal before the band would start booking jobs.  That man was Al Grebnick.  After a few rehearsals, the band started playing engagements.  The first dance engagement was at the Oak Ballroom, Schuyler, NE where Leo recalls, "After the job, us guys went out to start packing our stuff up, and we seen that someone slashed our tires.  We had to go to Al's to get a tire so Leonard and I could get home."  Leonard was playing sax and clarinet on the band also.  Leo played with the Al Grebnick Orchestra (Grebbi) for two years.  1957 and 1958.  The band played a TV broadcast for 13 Sundays straight at K.H.A.S. TV in Hastings, NE.  Always after the broadcast, Al had a job close by to head to.
Due to the increasing farming and livestock, Leo left the band.  A few years went by and Leo was contacted by a man from Prague, NE who was going to start up a band and really wanted Leo to join.  This man was Adolph Nemec.  Leo joined the band and played for over 17 years.  The Adolph Nemetz band's first job was at Dance Island, Wahoo, NE.   Leo hardly missed a job.  Leo recalls Adolph being a wonderful guy to work for whom never complained and treated Leo well.  Leo and his good friend on the band, Gwaine Dvorak were the "entertainment" on a lot of jobs.  As one of the band guys told Leo's son Lonnie several years later, "When your Dad and Gwaine disappeared, we all went on alert because we didn't know what was going to happen."
Leo would always get accused of unhooking the trailer since the drummer always has pliers with him.  Naturally the guys wouldn't say the trailer wasn't behind till a few miles away from the dance hall.  Leo always heard, "Piitz, you and those damn pliers!!!"  Leo remembers the time when the band was playing at the Moose Lodge in Hardington, NE.  During the break, Gwaine and Leo snuck the Moose head out and wired it on the front of the van with baling wire.  Leo said, "and if it wouldn't of been for that darn manager going out afterwards and seeing it, Adolph would of drove that all the way home!"
And of course when you have a trailer and play in a far away place where they called "Ohio", NE,  and there are big rocks laying around, you just have to put some of them (the big, heavy ones) in the trailer and put the cases around them so you can bring them home.  Leo recalls, "Adolph was cussing because none of the cases fit right in the trailer and couldn't get the lid shut.  So Adolph put the cases that didn't fit in the van and complained all the way home how the van didn't have no power and how heavy the trailer pulled."
And of course there was always eating a can of pork and beans before you left home for the dance job so you could have some fun during and after the job.  But with all the fun, Adolph would always laugh.  Leo recorded several records with the Adolph Nemetz band.  The first one was recorded in the Exchange Building in Omaha, NE by Ron Nadherny.  Leo was nick named the "human metronome".  Once Leo tapped the tempo off, it didn't move, no matter what you did.  The band on the first recording recorded a song twice, the time difference between the two, 1 second.
During his time on the Adolph Nemetz band, he met a pretty gal by the name of Bernice Dolezal at a dance in Abie, NE and went down for a hamburger after the dance in the hall basement, and the rest was history.  They were married on September 24, 1966.  Three children were born to this union.  Wilfred J., Maria L., and Lonnie L.  Bernice passed away in August 20, 1984.  Leo remarried on July 26, 1986 to Dorothy M. (Hergenrader) Seiler.  Dorothy passed away on March 12, 2006.
In the fall of 1990, Leo and his son Lonnie were talking on top of a roof of a chicken house they were tearing down about music and things.  Lonnie said how he wished he could play in a band.  Lonnie was already playing sax and clarinet in School.  So Leo said, "why don't we start our own."  And the Leo Lonnie Orchestra was born.
The band started as a polka band and then extended the music library to play big band music.  This helped the band be versatile in being able to play different ballrooms to what music was needed to be played.  Leo helped Lonnie tremendously in getting the band rolling.  Leo helped buy equipment, music, etc.  Leo even did the announcing from the start.  The bands first job was at the Oak Ballroom, Schuyler, NE in January of 1991.  And thank goodness, no tires were slashed after this dance job.
Leo drummed on the band till he retired in November 2007, 16 years.  Leo drove the van, helped with all the duties of the band to help his son Lonnie get a good start.   He is on two recordings and one video with the band.   And the Leo Lonnie Orchestra still continues today.   Bands that Leo has played with:  Golden Star, Math Sladky and the K.L.M.S. Polka Band, Six Fat Dutchman, Al Grebnick, Adolph Nemetz, Sparta Orchestra, Harry Czarnik, Dennis Wesely, Ernie Kucera, Dean Hansen, Bud Comte, Emil Herms, Kenny Schuda, Mark Vhylidal, Leo Lonnie Orchestra, and the Studio Trio.   Leo's family consists of : Wilfred (Willie) Piitz of Columbus, Maria Lunde and children Mathew and Bernita of Columbus, and Lonnie and Kim Piitz and children Suzanne, Sylvia, Ellie & Lainley of Brainard.
Source: Hall of Fame Induction Ceremony