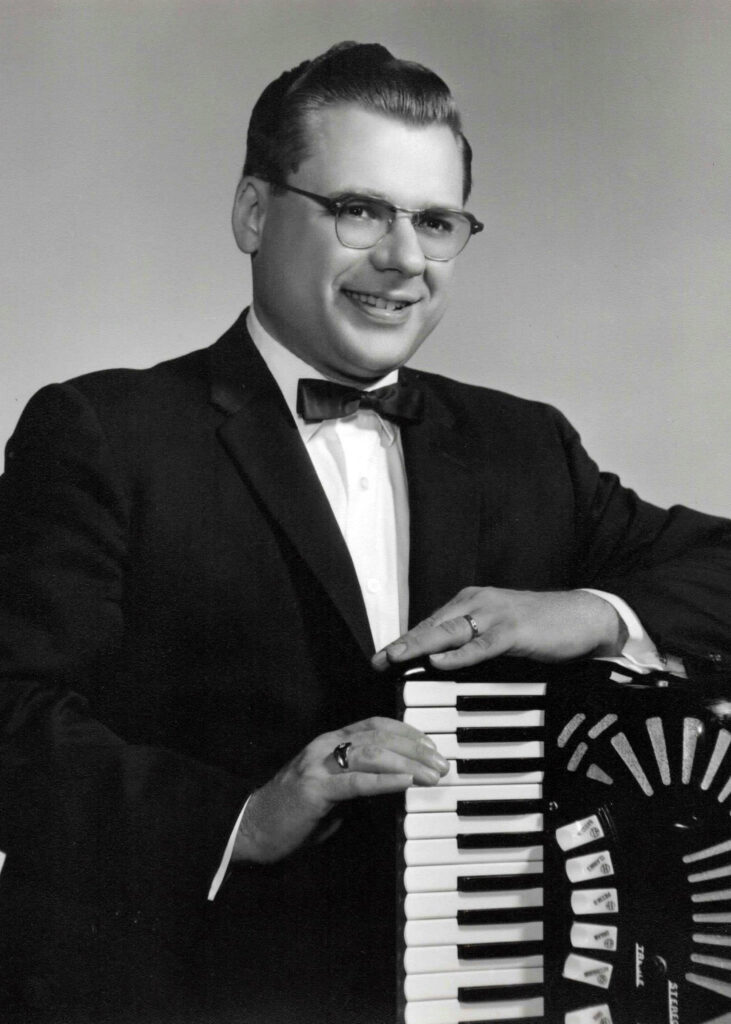 Johnny Swoboda was born in Omaha on January 9, 1929 to John & Theresa Swoboda, Sr. He had one sister, Jeanette (Evans). At eight years of age, Johnny started accordion lessons with John Matcha. He graduated from Omaha South High in 1946. While at South, he played bass horn & trumpet and was the drum major in his senior year. He also studied piano with Gertrude Hoden for five years.
He started playing professionally at Chop's Tavern on 13th Street with the Miles Mucha Silver Moon Orchestra when he was 16 years old. In 1947 he joined the Kostka Brothers Orchestra and played with them until 1950, when he retired from playing to devote more time to his business and family.
He started teaching accordion at Schmoller & Muller in 1947 when he was 18 years old. One day a week he traveled to Plattsmouth, NE to teach the youngsters of that area. In January 1949, Johnny moved to 647 South 41st Street, the first home of Johnny Swoboda's Accordion Studios. By 1955 the modest basement studios were bursting with activity and the Swoboda family had outgrown the home. In May 1956, Johnny moved his business and family to 5130 South 20th Street (20th & Q).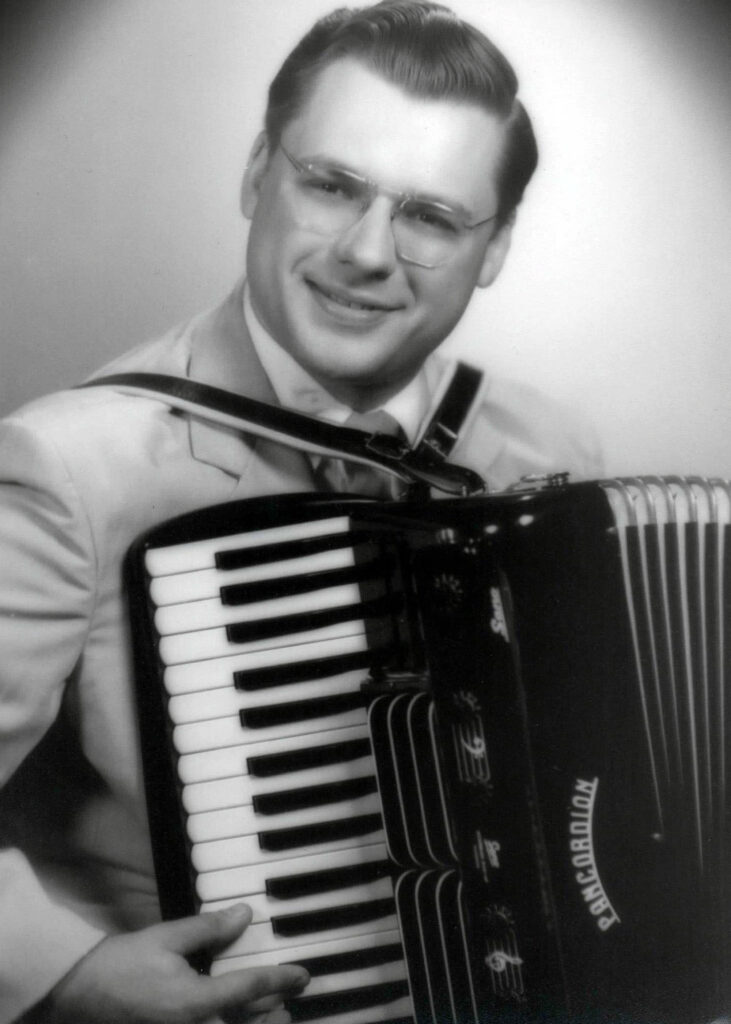 Johnny started broadcasting the Johnny Swoboda Polka Show from Radio Station KOOO. The show was very popular and grew from a one-hour to a three-hour show every Sunday. Many of Johnny's students were featured on his polka show and were given an inside look at the professional world. In 1961, Johnny left the radio show to pay attention to his business, which was growing rapidly.
In 1963, Johnny changed the store's name to Swoboda Music Center and added guitar and drums.  Later, band instruments and electronic equipment were added.  Swoboda Drum Pad was added in 1965 to make more room for the growth of the business.  A great number of today's polka band members walked through Swoboda's doors for their music lessons.  Among these were Frank Remar, Lenny Rich, Fred Leas, Dean Hansen, Ray Dusatko, Ron Nadherny, Bob Zagozda, Johnny Ray Gomez, the Ponec Brothers, the Tomaneks, and many others.  During this time, Johnny brought many famous polka people to Omaha to entertain polka lovers.  The most notable were Lou Prohout, Myron Floren and Frank Yankovic.
Johnny and his wife, the former Arlene Jelinek of Wahoo, NE, were married on October 18, 1948.  They had thirteen children:  Mrs. Jolene Hamann Dalton, Mrs. Sharon Swanson, Mrs. Phyllis Kool, Jay, Mrs. Cathi Tierney, Mrs. Patti Dunne, Jim, Mrs. Teri Schwarz, Mrs. Conni Lane, Larry, Tony, and Mrs. Margie Forman.  All the children enjoyed music, Czech and otherwise, on their respective instruments.  They also maintained close association with their Czech heritage through Sokol South Omaha, in which all family members participated.  The instruments each played are as follows:
Jolene: accordion, piano, organ

Sharon: accordion, organ

Phyllis: accordion, piano organ, glockenspiel

Jay: accordion, drums

Cathi: accordion, organ, vibes

Patti: accordion, organ

Jim: accordion, drums, trumpet

Teri: accordion, clarinet

Tom: accordion, clarinet, sax

Conni: accordion, piano, organ, guitar, flute, harp

Larry: accordion, organ

Tony: accordion, drums

Margie: accordion, piano, organ, trumpet
The children played together in duets, trios, quartets, bands, and even a family band. This ten-piece band won many trophies and entertained at many functions.
Johnny's late son-in-law, Del Hamann, who was killed in a car-train accident in 1973, was very active in Czech music with his two-hour polka show on KOTD Radio and his own polka band.  He played accordion with the Al Grebnick Orchestra.  He designed the Swoboda Music Center logo which was used for many years.
In 1975, Patti, representing Sokol South Omaha, was chosen Nebraska Czech Queen and the family band got back together, twelve pieces this time, and entertained at the Saunders County Czech Festival.  Conni reigned as Sokol South Omaha Czech Queen in 1977.  She played Czech compositions on the flute and harp for the talent competition.  Margie was the Sokol South Omaha Czech Queen in 1983 and performed a gymnastics routine for her talent.  As the children got older and their Sokol interests increased, they learned to dance the polka and waltz and became members of the Sokol South Omaha Besada Dancers.  The group traveled many places to display this beautiful Czech folk dance.  Patti, Teri and Conni danced with the Big Joe Dancers, who performed at the polka festivals sponsored by "Big Joe" Siedlik annually.  Jim and Tom joined the group when Big Joe's TV Polka Show was aired.  These dancers opened and closed each show, learning new routines for each show.
In 1978, the Swoboda family was asked to dance at the Orpheum Theater for a musical show featuring the Lawrence Welk performers. Dressed in Czech costumes, the family demonstrated the mazurka, waltz, and polka with many variations. Teri and Tom were excited to be asked to dance with Bobby and Cissy on stage when the Lawrence Welk Band appeared in Lincoln, NE in 1976. The whole family loves Czech music, and attending the dances at Sokol South Omaha was one of their favorite ways of having fun.
The Family Band performed at Johnny's Retirement Party in 1994.
On October 11, 2009  20th & "Q" Streets was fittingly memorialized as "Johnny & Arlene Swoboda Street".
Johnny passed away on September 15, 2011 in Omaha, NE.
Source: Hall of Fame Induction Ceremony