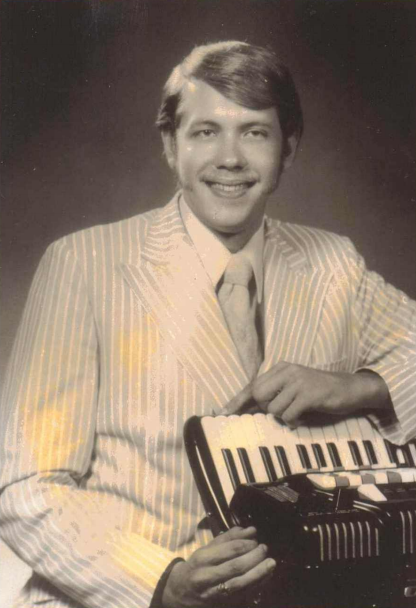 Deldon "Del" Hamann was born in Logan, IA on June 25, 1949 to Merle & Leta Hamann. He attended Bancroft Elementary School in Omaha and graduated from Central High School in 1967. He served in the U.S. Air Force and was given a medical discharge in 1970. He graduated from University of NE at Omaha with an associate degree in Drafting & Design Engineering Technology in 1972.
He began accordion lessons at 8 years of age from Mrs. Meisinger at Hospe's Music and then moved to Swoboda Music Center to study under Ray Dusatko. He started playing professionally about age 14 with a three-piece group he formed, called "The Nebraska Playboys", with George Fleming (drums) & Leonard Vavra (tuba). Being underage at the time, his parents were his constant chaperones when he played in the bars (which was regularly).
After returning home from the Air Force, he continued playing with his band, The Nebraska Playboys, which now consisted of George Fleming (drums) & Chuck Jirkovsky (trumpet) and later Jack Cronin (drums). His main 'gig', though, was playing accordion with the Al Grebnick Orchestra.
Del hosted a two-hour Sunday morning polka show on Radio Station KOTD (1000 AM) out of Plattsmouth, NE, starting in 1971. His program farewell was always "Keep a smile on your lips, a smile in your heart, and a polka beat in your step." He married Jolene Swoboda of Omaha on August 11, 1972. They had fun when Jolene would join Del on the accordion playing a song or two together with the Al Grebnick Orchestra.
Del was tragically killed in a car-train accident in Plattsmouth when he was returning home after his Sunday morning broadcast on April 8, 1973.
Source: Hall of Fame Induction Ceremony