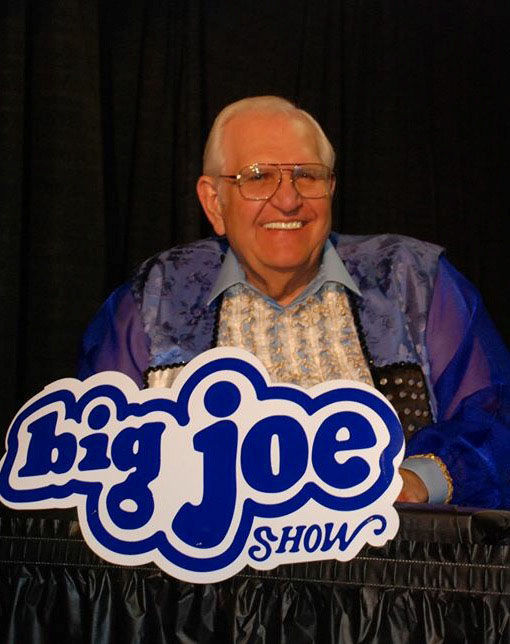 The late Joseph F. "Big Joe" Siedlik was born on May 13, 1934 in Omaha, Nebraska. His parents were Joseph and Rose Siedlik. Joe is survived by his wife Martha "Marty" Monteforte Siedlik, and children; Sons Mike, Steve, and daughters Jean, Susan, and Jane, as well as nine grandchildren, which includes the late Amanda.
Joe attended grade school at St. Stanislaus Catholic School and graduated from Omaha South High School in 1952. After high school, Joe entered the Army from 1956 to 1958. While in the Army, he was a chef and one year he was directed to make a birthday cake for then President Dwight D. Eisenhower.
Joe married Martha Monteforte on June 25th, 1960, after that she was always known as Mart Siedlik.
Joe always had a love for polka music as he was brought up going to polka dances with his parents. His first polka show was on KOOO Radio in Omaha, Nebraska. It was only a half hour show every Sunday, but it was the start of his long career in radio and TV. The next move was to KTTT Radio in Columbus, Nebraska, and two months later the beginning of nine hous on KRBC Radio, Omaha and Council Bluffs, which was 18 hours of polka music every Sunday for 25+ years. There were also syndicated one, two, and three hour shows on 39 radio stations form the west coast to the east coast with some only six months and others three to five years.
In 1967, in connection with the Nebraska Centennial Nebraska Polka Days was started at AG Park in Columbus. It remained there through 1969, then moved to the more spacious Peony Park in Omaha in 1970 and continued through 1983.
Joe started recording bands and producing records and 8-track tapes of bands that weren't on their own label. He started with the Ray Label, then Micste Label which was associated with his sons names: "Mic" for Mike and "ste" for Steve and Polka Cassettes of Nebraska and PC labels. He assumed ownership of master tapes of other recording companies who were going out of business, 485 Master tapes of which two-thirds are on CD and all are one cassettes. Joe also had a newspaper called the Polka World Newspaper, which had 26 issues a year throughout the United States and at its highest subscriptions were over 92,000. During the papers history, Joe petitioned to have the President impeached. Over 900 thousand signed petitions and polka dances from coast to coast through the newspaper. This was done because the President didn't have a polka band play at the White House or Inauguration.
In the 1970s, Joe brought the Moravanka from Czechosolvakia to the United States on two different tours. At that time they were the top Brass Polka Band in all of Europe. They performed in 56 locations throughout the USA and Canada. He then in the 1980s got stated in TV with a 26-week hour long polka show on KETV Omaha in the 5-6 PM timeslot against NFL Football. The polka shows ratings beat out the NFL.
In 1989, Joe was gearing up for more TV programs when he videotaped for 10 days with ten polka bands each day at Aksarben Coliseum in Omaha. These were done to be aired on RFD TV, a cable TV network. When RDF went on-the-air in 2000, they began airing The Big Joe Polka Show from the Aksarben tapings, 12 – 16 hours each week. This at the time in our 50 years was the only polka show to be seen across the United States, parts of Canada, Mexico, Bahamas, and as far south as Belize. The Big Joe Polka Show Classics can be seen weekly on RFD TV to this day with polka music of all nationalities. There were more tapings done in early 2000s, starting in Buffalo, New York, two times at Medina, Minnesota, two times in Round Top, Texas, then the last of the video tapings at Starlite Ballroom in Wahoo, Nebraska.
Big Joe left a legacy in the field of polka music, which to this day is unmatched by any single person.
Big Joe passed away on January 1st, 2015.
Source: Hall of Fame Induction Ceremony, September 9th, 2018