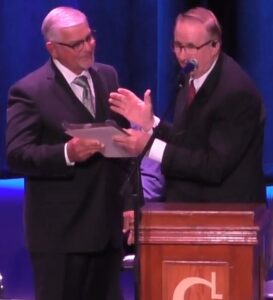 Larry J. Skarka was born on November 8th, 1956, in Columbus, Nebraska. His parents were Harold Skarka and LaVerna Skarka. Larry is married to Shirley Skarka. Larry has three sons: Joseph, Steven, and Anthony.
Larry attended grade school in Silver Creek, Nebraska, and graduated from high school at Schuyler Central Public Schools in 1975. He got his first instrument, a trumpet, at age 9 and played in the Silver Creek School band in 1966, then the Schuyler Central High School band through 1975.
Larry began his professional career in 1973, playing for the Frank Kucera Band. Then due to Frank's health, in 1977, Larry began leading the band and, later, changed the name to the Czechlanders, which is still active to this day. He also has been seen on stage with the following bands: Emil Brdicko, Bob Blecha and The Bouncing Czechs, Greg's Good Timers, American Czech Brass Band, Milligan Czech Brass Band, Paul Kothe, Moonlighters, Little Tavern Band. He also was a sub for several bands which included Ernie Kucera, Leonard Becwar, Sue and The Blue River Czechs, Math Sladky, Tony's Polka Masters, Mark Vyhlidal, as well as others.
The Czechlanders have produced 11 recordings and, over the past 45 years, have traveled to 12 states and Canada. Larry was inducted into the Musicians Hall of Fame in Milligan, Nebraska in 2013.
Source: Hall of Fame Induction Ceremony, September 11th, 2022