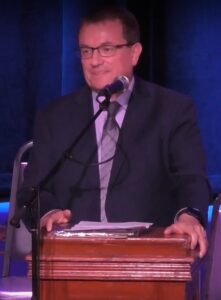 Frank James (Jim) Kucera was born on August 29th, 1966, in Crete, Nebraska. He is married to Deb Kucera and they have two children: Son Dr. Zach and his wife Bekkah Kucera and their two children Landen and Laiken who live in Elkhorn, Nebraska, and daughter Britni who lives and works in Denver, Colorado.
Jim attended grade school and high school at Wilber-Clatonia Public Schools, graduating in 1985, attending UNL and graduated in 1990 with a Music Education degree, then a Masters degree in Educational Administration in 1997 from UNL.
At the age of 10, Jim got his first instrument, a baritone, and began playing in the grade school band and then high school band as well as performing with the choir all at Wilber-Clatonia. While in college he played in the concert bands at UNL.
Jim began playing professionally at age 14 for the Math Sladky band. He first started to sit in and sub for the band, but became a full-time member in January of 1982 when Emil Korbelik could no longer play due to oral surgery. Over the years Jim has played for Leonard Becwar, Milligan Czech Brass Band, Jim Bochnicek, Kevin Koopman, and The Boheian Alps Boys.
Jim has received awards in his teaching career: THe Jack R. Senider Outstanding Young Band Director in 1992, Ameritas Crystal Apple Teacher Award in 2006, Distinguished Service Award by the Nebraska State Bandmasters Association in 2022.
At age 13, Jim learned how to play button accordion and still uses that same accordion on dance jobs to this day. There has been three albums recorded with Math Sladky Band, and nine recordings produced by Jim and his band as well as a DVD of the Mollie B Polka Party.
Jim's first band, The Vested Czechs, which started in 1984, was only to be a weekend, one-time deal for Wilber Czech Days. It was a reaction, peaceful demonstration, except for the use of music, to protest the Wilber High School Band not wearing Czech outfits while marching in the Wilber Czech Days parade. To his surprise, it kind of just took off. He had no intention of it becoming anything more. After a lot of support and encouragement from Dirk Altman, he hired the Vested Czechs to play a dance at the Wilber Sokol Hall in October of 1984. The band name changed to the Jim Kucera Band in 1990. This was after he decided he would not have the band anymore. That lasted just a couple of months, so they made a comeback. Not only did the name of the band change, the music library and instrumentation did as well. This was in December of 1990 and the first gig of the reformed group was at the Hebron Legion Club.
Source: Hall of Fame Induction Ceremony, September 11th, 2022