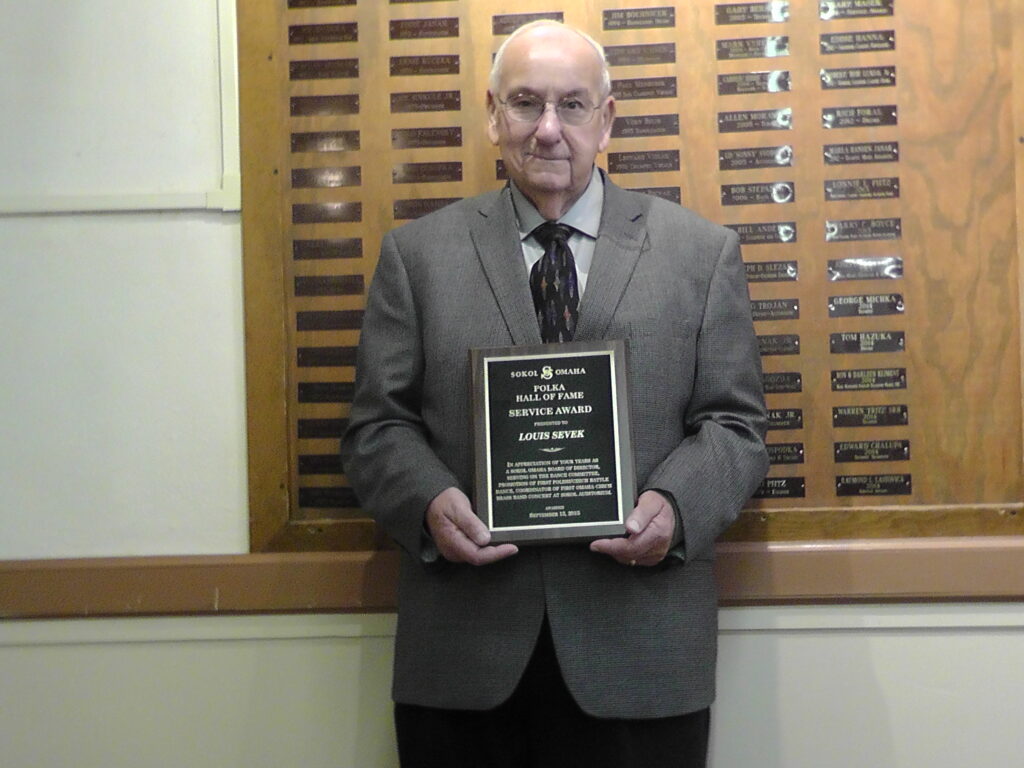 This year, we are giving a Service Award to a deserving gentleman: Louis Sevek. His parents were the late Louis and Josephine Sevek. Louis and his wife of 46 years, Pat Bozdeck Sevek, met at a dance here at Sokol. They live in Papillion, Nebraska.
Louis attende Brown Park Grade School, and graduated in 1952 from Omaha South High School. Raised in Brown Park, one block from South Omaha Sokol, where his parents were members of ZCBJ Lodge #72, Louis worked many events at South Omaha Sokol. Him and his dad worked the cloak room while mom worked in the kitchen on New Years Eve. Growing up around polka music with bands like Sparta and Beseda playing at those New Years Eve dances gave him the desire to be a promoter and organizer for polka events.
In 1955, Louis was asked to join the Sokol Omaha by a Hall of Fame Inductee, Vic Kasper. He served as a Sokol Omaha Board of Director and on the Dance Committee. Some of the dance promotions he helped with at Sokol Omaha was the first ever Polish/Czech Battle Dance, featuring Milt Jaworski and The Polonaires and Jim Havorka, Benefit Battle Dance with Polka-Teers, Polonaires, Kavaliers, and the first Omaha Czech Brass Band Concert in 1965.
The Sokol Omaha Czech Brass Band from Brown Park was organized by Charlie Dvorak and all the promotion was done by Louis. This would be the first Brass Band since Frank Franek's Band had folded in 1922. He was in charge or hiring the Czech vocalists Joyce Koutecky and Jim Cisar and the musicians were basically members of the Eddie Janak and Jim Hovvorka Orchestras with Jim Hovorka as the honorary conductor. There was also a concert that followed in Wilbur, Nebraska.
Louis helped sponsor dances at Sokol Auditorium, Polish Home, and the Livestock Exchange when Phil Soreson was running for governor of Nebraska and hired the musicians to play for the visit by Ted Kennedy and Governor Connelly. He also was part of the welcoming committee for Lawrence Welk when the orchestra arrived at Epply Airfield to play a performance at the Civic Auditorium in 1965.
For 25 years (1967-1992), Louis promoted the Polka Cruises on the Belle of Brownville and Spirit of Brownvile Riverboats featuring 40 different polka bands.
Source: Hall of Fame Induction Ceremony, September 6th, 2015