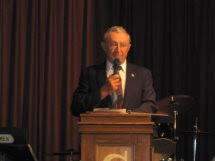 Jerry came from a large family that always enjoyed music in the house. His father was a musician, playing the cornet in Czechoslovakia. As a very young boy, Jerry eyed the cornet that was kept in a closet. He would create his own songs as he practiced. His father recognized his talent and with Jerry's desire to play the cornet, gave him lessons. After awhile, he decided to take lessons from another person and rode the bus to lessons each week and back home again, carrying his cornet with him.
While in grade school, he played in the Union Pacific Drum and Bugle Corps. During High School, he was a member of the South High School Band playing the trumpet and was part of a quartet that received Superior Honors at a regional competition.
After graduation, he joined the Meadowlark Polka Band. When that band dispersed, he played occasionally with the Red Raven orchestra for dances and on radio station KSWI on Sunday morning. Next, he joined the Ed Valasek Orchestra and played for dances and on radio station KBON each Sunday, with Dick McCann announcing. He had a void in his band participation while in the Armed Forces 1951-1953.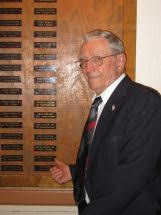 Upon returning from the service, there were no immediate openings for a trumpet player. He learned the Golden Prague Orchestra needed a drummer. Since Jerry had played the drums periodically during high school, he tried out for the drummer's position and was hired. That launched his career in duo roles playing the trumpet or the drums.
After he was married in 1954, he played with the Red Raven Orchestra alternating drums and trumpet. Next bands he played with were the Jolly Musicians and Sparta Orchestras. He joined the Ed Janak Orchestra in 1965 playing the drums and vocalizing in the Czech language, and later played the trumpet with this band. Also, in this time period, he was a member of the Omaha Czech Brass Band playing the peck horn. He played trumpet and vocalized with the Frank Hazuka Orchestra. Recordings were made with the following orchestras: Ed Janak Orchestra, playing the trumpet, drums and vocalizing; the Czech Brass Band, playing the drums and peck horn, Dean Hansen Trio, the drums; Teddy G., trumpet and vocals; and Michael Brecka, vocals.
Till this day, Jerry is never far from his music. Even while living in Arkansas, where there was no Czech music to be heard, he listened to the Sunday morning polka show via the computer. He travels frequently and the first CDs packed are the polka CDs. Whenever Jerry listens to "His" music he knows the name of the piece and can identify the players in the local bands. His music will always be a part of his life.
Source: Hall of Fame Induction Ceremony