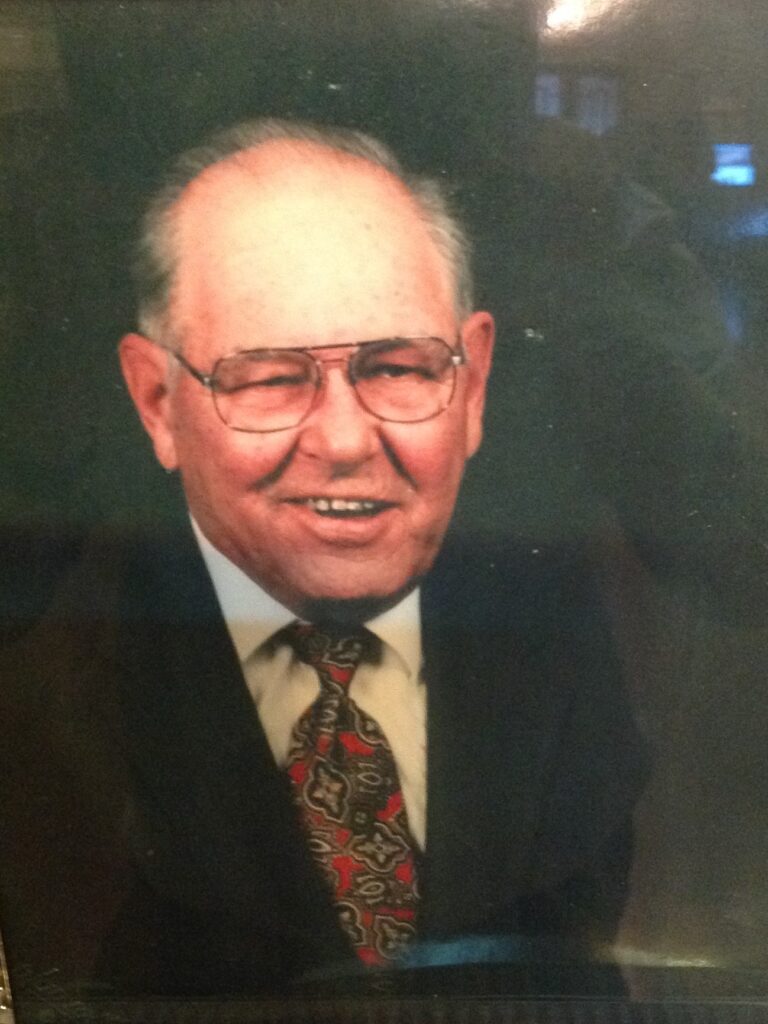 The late George Washington Michka was born on February 22, 1919 in Omaha, Nebraska. His parents were the late Adolph Jr. and Anna (Nepodal) Michka. George was a 3rd generation immigrant from Czechoslovakia, he was married to the late Viola Martha Krepel. They had 2 sons: The late Ron Michka and son Gary. He also has five grandchildren: Jennifer, Jill, Ann, Richard and Ron, as well as 12 great-grandchildren.
In about 1924, when George was around 5 or 6 years old, his family moved to Irvington, Nebraska where he attended school. When the school began to offer music class and a school band, George got his first trumpet and began to play. Soon after, he began taking private lessons from Mrs. Elias who taught across town on 13th street in South Omaha. Lessons were a $1.50 each, a lot of money for that time and a long trip from home to the teacher. Sometimes he would get a ride from his dad from Irvington to Benson, then take the streetcar to 17th and Vinton street, then he walked 6 blocks to the music teacher. His father insisted he take lessons and demanded that he practice for a least 30 minutes each day. The lessons continued for one and a half years.
George played with the school band, with the church orchestra, and with a local band called Probest Band that played around Irvington and beyond. When he was a teenager he played trumpet for a four piece group whose polka music was broadcast on KGBZ radio.
George loved people and loved to entertain. His music career spanned some 45 years as a member of several polka bands. During the mid 1930's, at age 16 or 18, he played on The Golden Prague Orchestra under the direction of Sokol Omaha Polka Hall of Fame member Jim Tourek. They played throughout the Midwest Texas, Oklahoma, the Dakotas, and Nebraska. George earned $0.25-$0.50 per night and often slept at the dance hall or on the stage. He kept enough money to live on, then sent the rest home to help his parents.
George then joined the Sparta Orchestra which was run by another Sokol Omaha Polka Hall of Fame member Jerry Jaros. They also played in several states South Dakota, Minnesota, Iowa, Kansas, Missouri as well as Nebraska. They played regularly at the polka center of Nebraska the Sokol Auditorium.
George also played for the Omaha Czech Brass Band that was formed by another Sokol Omaha Polka Hall of Fame member Karel Dvorak better known as Charlie.
George often played on Eddie Haddad's Orchestra in and around the Omaha area.
George was on three recordings Omaha Czech Brass Band, Omaha Czech Brass Band "Favorite Oldtime Polkas And Waltzes Played In Traditional Tempo", and Sparta Orchestra "Polkas and Waltzes Played The Way You Like It"
Youngest son Gary took private lessons on trumpet from 8th – 11th grade. He also was in the All-City music festival and was the drum major in the Burke High School band. He was able to play along side his dad George with the Sparta Orchestra from 1968 – 1969.
George also inspired his grandchildren to play trumpet. Ron Jill, and Richard all learned to play on trumpets that were once played by George or Gary.
George spent 45 years of his life entertaining people with polka music, and during the remainder of his life, his trumpet was never far from his side. He played his trumpet at home up to the last years of his life.
George passed away on September 5, 2000.
Source: Hall of Fame Induction Ceremony, September 7th, 2014