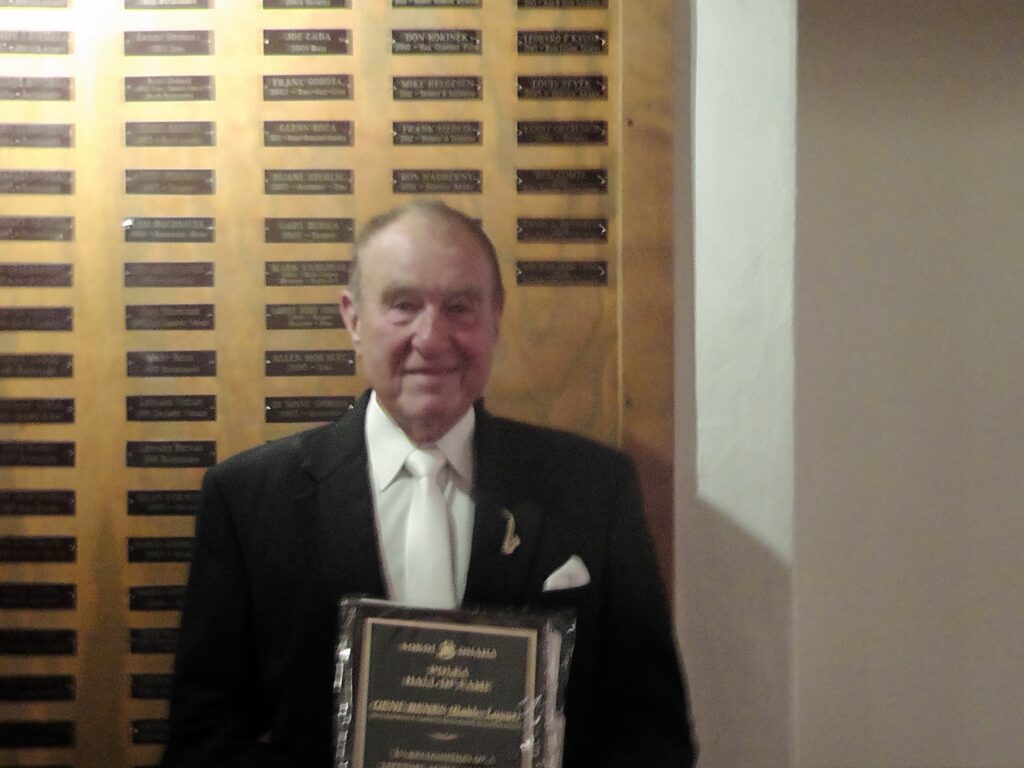 Gene Benes was born on June 28th, 1933, in Waverly, Nebraska. His parents were Thomas and Emile Benes. Gene and his wife Jo Ann Kratovchvil Benes live on a farm near Lincoln, Nebraska. Their children are Dan, Mike, Dave, Bob, John, and Kathy.
Gene attended grade and high school in Waverly and graduated in 1951, and entered the United States Army, where he was a member of the 43rd Army Band until 1957.
Gene got his first instrument at the age of 15, and was a member of the Waverly High School band from 1948 to 1951. At the age of 16, he played his first dance with the Blue Jackets Polka Band. While still in high school, Gene formed a dance band that played for weddings and anniversaries.
On his return from the service, he played for the Ted Weems Orchestra for six months. Then in 1954, he formed a band which became the nationally known Bobby Layne Orchestra. Over the years, the Bobby Layne Orchestra was the back up for such stars as Bob Hope, Gordon Mc Rae, Bob Newhart, Tonny Bennett, and Lawrence Welk shows. He also played for the Inaugural Ball for Norbert Tiemann, James Exon, Charlie Thone, Bob Kerry, and Mike Johanns. Bobby was a past President of National Ballroom Operators Association, Grand Marshal for the 4th of July parade in Seward, Nebraska, and received the keys to the city from Mayor Strahan in South Padre Island, Texas. Music awards included the Nebraska Band Masters Award from the Nebraska Music Teachers Association, and the John Tavlin Award from the Nebraska Jazz Orchestra.
In 1972, Bobby bought the Pla Mor Ballroom in Lincoln, and after much needed clean up and renovation, dances began with Wednesday night singles dances and Saturday night Big Band Ballroom Dances. Then on July 29th, 1973, regular Sunday Polka dances were started. In August of 1975, the Pla Mor Czech Days started and became very popular with three days of polka music inside and outside. The weekly Sunday dances ended in 1992 and were moved to Thursday nights with dancing and a meal after the dance. The festival and Thursday dances ended in 1996. There is an annual Czech day sponsored by the Lincoln Czechs, at the Pla Mor.
The Pla Mor Ballroom has won the KFOR radio BEST OF LINCOLN Peoples Choice Award for dancing several years in a row.
Source: Hall of Fame Induction Ceremony, September 11th, 2016