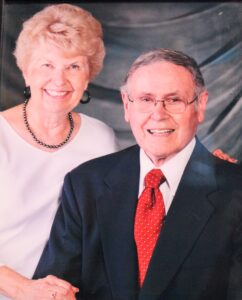 Charles Warga was born on September 23rd, 1929 in Plattsmouth, Nebraska. Irene Warga was born on December 25th, 1934 in Omaha, Nebraska. They have four children: Steve, Mary Jo, Tom, and Joe.
Charlie graduated from Plattsmouth Nebraska Public Schools in 1947. He then attended UNO for some classes. Irene graduated from St. Marys, Omaha in 1952.
After high school, Charlie and Irene, with an interest in polka music, met at a polka dance in Sokol Auditorium, now known as The Admiral, on February 15th, 1953. They attended polka dances every chance they had and were married on February 23rd, 1957.
In 1970, the Warga's started and owned radio station KOTD AM 1000, which aired the first time on Monday, October 26th, 1970. The signal was directional and went into Kansas but was limited to the north. A daily polka show aired from 11 AM to 112 PM, Monday through Saturday, through about 1992. The first on-air host was Duane Hamann, who came to KOTD from Little Rock, Arkansas. The first station manager was Dave Messing, who had this to say about the polka programming.
"[Charlie] knew polka music would be a success. I always felt Charlie really understood his community…" (which also included the South Omaha community.)
There were calls the first week about the polka music when listeners were excited about discovering the new station.
The Sunday Polka Show was a weekend tradition and grew from two hours initially to, at times, four to five hours. The request time from noon to 4 PM, had phones ringing almost non-stop. The most notable hosts over the years were Duane Hamann, Del Hamann (no relation to Duane), Jim Bochnicek, Irene Warga (who was the host for 16 years), David C. Denver, and Robin Wilks.
There were severall polka shows that aired on Sundays The PlaMor Ballroom polka party with Ron Nadherny, Bobby Z Polka Show with Bob Zagozda, South O Polka Show with Rudy Dvorak, South O Czech Polka Show with Ed and Lou Hospodka.
In the 70s into the 80s, live remote radio broadcasts were common at KOTD. These events were church festivals, a polka promotion at Southroads Mall, and a battle of the bands on April 6th, 1975 with five of the top polka bands in the state, all on the stage at one time at Sokol Auditorium.
The Warga's also owned KOTD FM from 1992 to 1998, which featured syndicated big band music from the 1930s to the early 50s from Chicago.
Not orchestra leaders or musicians, Charlie and Irene played key roles in "orchestrating" the continued poularity and promotion of polka music.
Charlie passed away on April 11th, 2020.
Source: Hall of Fame Induction Ceremony, September 11th, 2022